Get details about how to get BSNL SIM to stay connected to the world on your spiritual journey with your mobile journey and data coverage for Amarnath Yatra 2019, check where these special preloaded SIM cards are available and prepaid plans, Talktime and cost of Shri Amarnath Yatra 2019 provided free data for the journey.
As prepaid connections from other states are not allowed to operate in the Jammu and Kashmir region, but a special preloaded travel SIM is provided by Bharat Sanchar Nigam Limited with the approval of the Ministry of Home Affairs / Department of Telecommunications (DoT).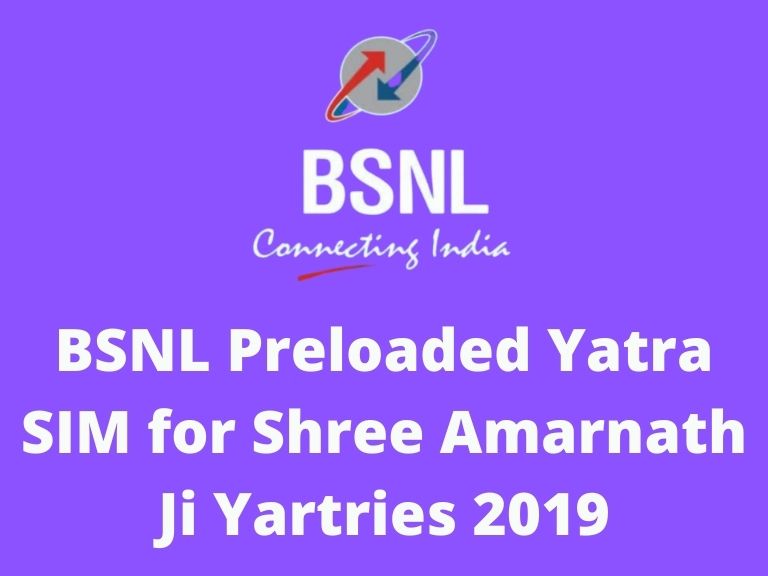 BSNL Yatri SIM Offer Launched with Prepaid Prepaid SIM Card, Jammu and Kashmir Circle to Provide Easy Connectivity for Communication Needs of Pilgrims for Holy Amarnath Cave Pilgrimage in South Kashmir Himalaya from 01.07.2019 to 15.08.2019 Special arrangements have been made for
How to obtain BSNL Amarnath SIM Card
To get the BSNL Preloaded Jerma Sim Card, it is necessary to submit valid documents such as address proof and other things which include proof of identity and photo of the applicant by Yatries along with a photocopy of the registration slip issued by SATS (Shri Amarnath Adarsh Committee).
Special Cost and Free Talktime/ Data
Amarnath Yatra Sim is priced at Rs. 230 / – (including the cost of STV and plan vouchers) with 20,000 seconds of free talk time and 1.5 GB of free data usage with ten days validity, for a large number of pilgrims which is expected, voice and SMS took precedence over data is.
Where we get BSNL Amarnath Yatra SIM Card
Amarnath Yatras can get BSNL Preloaded Yatra SIM card at designated counters of following places
1. Tourist Reception Center at Lakhanpur Base Camp.
2. Bagwati Nagar Jammu Base Camp.
3. Main Exchange Building, CSC, Kachchi Chavanni, Jammu.
4. Main Exchange Building, CSC, Trikuta Nagar, Near RBI Building, Jammu.
5. Base camps at Baltal and Pahalgam
6. Tourist Reception Center, Naugam, Near Railway Station, Srinagar
Which BSNL network is available in Amarnath Yatra 2019?
BSNL provides 3G data services at all places of Amarnath Yatra and is connected by optical fiber through 10G transport network.
What is the routes covered with BSNL 3G in Amarnath Yatra?
There are two routes covered by BSNL for Amarnath Yatra SIM card, namely Pahalgam and Baltal.
>> Pahalgam covered all with Chandanwari, , Poshpatri, Panjtarni, (new site), Holy cave
>> Covered with Baltal root Ranga More, Baltal, Dommel, Sangam (new site)
What to do if provided free Talktime exhausted?
Just get BSNL Amarnath Yatra Sim online or offline by selecting Jammu Kashmir Circle to get extra time.