Look for the members of the BSNL CRO and core group formed to conduct the proposed non-executive membership verification (trade union election) in September 2019.
Bharat Sanchar Nigam Limited Competent Authority has given the officer as Chief Returning Officer (CRO) in conducting the 8th membership verification for non-executive employees in BSNL.
| | | |
| --- | --- | --- |
| Smt. Samita Luthra | GM (Recruitment) | Chief Returning Officer |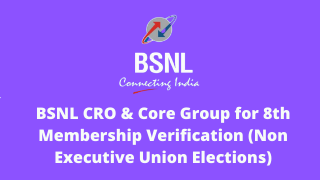 Leaving the BSNL CRO, the below is the core group constituted by the competent authority of Bharat Sanchar Nigam Limited to deal easily with matters relating to the conduct of the 8th membership verification process for recognition of non-executive employees of the majority union (s) by the competent authority of BSNL.
This core group will represent BSNL management in all meetings with the Chief Labor Commissioner (Central), the participation of unions from the non-executive side and from any other agency to conduct the proposed 8th membership verification process in the month of September 2019.
| Name of the Officer | Designation | Level |
| --- | --- | --- |
| Shri Arun Kumar | PGM (Personal) | Leader |
| Shri S.K. Sinha | PGM (Admin) | Member |
| Shri A.M. Gupta | GM (SR) | Member |
| Shri Saurabh Tyagi | Sr. GM (Establishment) | Member |
| Shri A.K. Sinha | DGM (SR) | Convenor |
All union leaders and members can contact the above authorities for any clarification related to 8th membership verification.