The latest features of BSNL unlimited postpaid plan has been announced. The tariff of unlimited with new facilities for the postpaid plan and activate the process for them.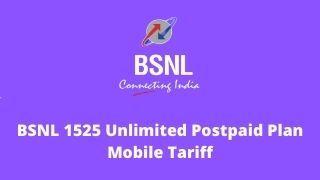 Particulars
BSNL 1525 Postpaid Plan tariff
Activation Charges in Rs
Rs. 100
Security Deposit
Local + STD = Rs. 500, ISD = Rs. 2000,
Local + STD + ISD + International Roaming = Rs 5000
Fixed Monthly Charges
Rs. 1525
Outgoing Calls from Home and National Roaming
Local / STD Unlimited Own Network (On net) and Other Network (off net) for both landline and Mobile networks.
I/C Calls while Roaming in Min
Free
Free SMS (Local/National) in No's.
100 SMS Per Day (after limit each SMS will charged at Rs. 0.5)
Free Data Usage (MB) in Home LSA as well as in National Roaming
Unlimited data without speed restriction
ISD Call tariff
ISD Calls Tariff (Same as for Landline ISD Call Tariff )
SMS charges in Roaming
Rs. 0.25
International Roaming
Rs. 99 per month
International Roaming for Outbound Roamers has to submit requests for the provision of service at the home area before leaving.
The requirement for voice and data plan for BSNL 1525 postpaid plan with migration request customers for the available tariff.
BSNL Uttarakhand Mobile Plans (Latest Prepaid / Postpaid Tariff)
BSNL UP East Prepaid & Postpaid Mobile Tariff Plans
BSNL 799 Postpaid Plan Latest Unlimited Tariff
Rajasthan BSNL Prepaid / Postpaid Mobile Plans & Tariff