BSNL announced the Kurnool broadband plan for the Kurnool district peoples. This plan comes under the DSL and Bharat fibre services with unlimited 3G 4G voice and data plans for customers. Customer service centre with their office address as well.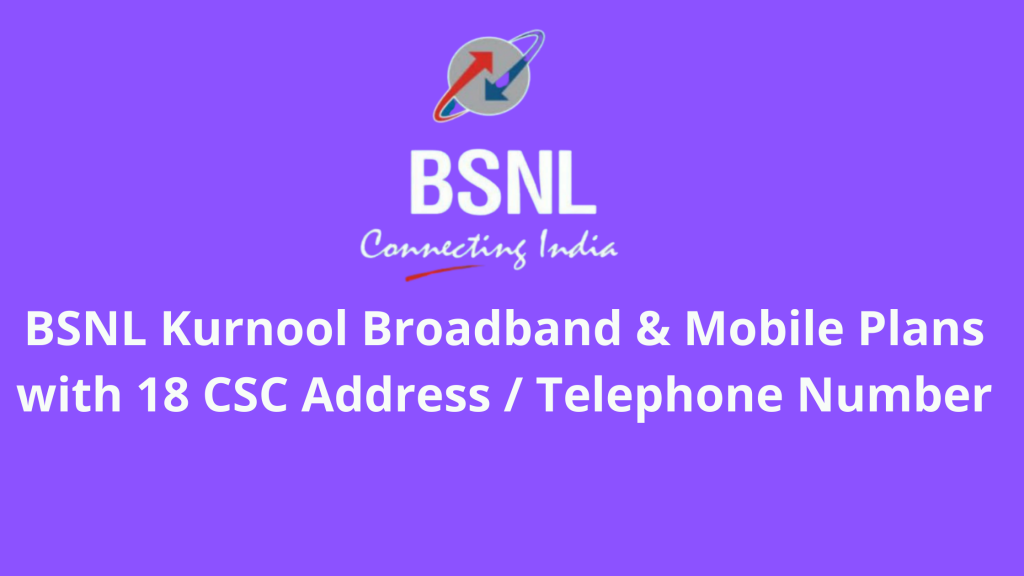 Name of the District / SSA
BSNL Kurnool Telecom District
Circle
Andhra Pradesh
SSA Headquarters
Kurnool (KNL)
Wired Services
Landline, Internet Broadband Plans (DSL / Fiber), EPABX
Mobile Services
2G / 3G / 4G Voice and Data plans
Wireless Services
BSNL WiFi Hotspots, Wings
Facebook
https://www.facebook.com/bsnlapcircle
https://www.facebook.com/bsnlcorporate
Twitter
https://twitter.com/bsnl_ap_circle
https://twitter.com/bsnlcorporate
Mobile Plans for Kurnool district across with Andhra Pradesh
BSNL Visakhapatnam District Mobile & Broadband Plans with CSC Location and Telephone Number
BSNL Kadapa Broadband & Mobile Plans with 12 CSC's Address and Phone Number
BSNL West Godavari Broadband & Mobile Plans with 25 CSC Address / Telephone Number in District
BSNL Coimbatore Broadband & Mobile Plans with 29 CSC Address / Contact Number
Pratibha Plus, Ananth, Per Second, Per Minute, Nestham, Amulya, Plan 153, Plan 171, Plan 186, Ananth Plus, Digital India, Plan 485, Star 498, Sixer, Plan 699, Plan 1001, Plan 1312, Plan 1399, Varshika – Visit Complete details
Latest 4G plans available in Kurnool district – Check Latest plans and tariff
Make your recharge online more easy for your mobile voice and data plans – login now
BSNL Kurnool District (SSA) Division Wise Customer Service Center Address with Office Contact Phone Number
Kurnool district Customer Service Center will be opened for all working days from 10 AM to 5.30 PM.
Get BSNL holidays list for Kurnool district
Allagadda
2-1-46, Shavkar Peta, Allagadda, 08519- 220030
Koikuntla
8-11, Main Bazar, Koilkuntla. 08510- 225224
Kurnool
Shop No.13&14, Bhupal complex, Park Road, Kurnool 08518- 278449, 225001
Kurnool Collector Office Complex, Kurnool, 08518-277156
BSNL Bhavan, Sunkesula Road, Kurnool, 08518- 223311
Banganapalli
9-3 old bus stand area, Banaganapalli. 08515- 227222
Sri Sailam Dam
Srisailam Dam East, Srisailam 8524
Kodumur
Nandikotkur
20-18, Midthur Road, Nandikotkur 08513 – 280020
Atmakur
Main road, Atmakur 08517 – 283925
Pattikonda
Main road, opp: RWS office, Pattikonda, 9490660444
Alur
Main Bazar, A.G. Mani buildings, Alur. 08523- 228500
Adoni
Bheemas Regency, MM Road, Adoni. 08512- 254199
Bethamcherla
H.No:6-39, Old bus stand, Bethamcherla. 08516-273344.
Nandyal
Srinivasa Nagar, Nandyal – 9490661888
Peapully
NH: 7 Near Post Office, Peapully 08522-229100
Dhone
Telephone Exchange, Dhone, 08516-222061, 221796.
Mantralayam
Near Telephone Exchange, Mantralayam, 279977
Yemmiganur
Near Geeta Mandir, Geetha Nagar, opp: SBI, Yemmiganur. 9440394466
Get all India BSNL customer care services complete contact details
Above all unlimited internet broadband plans (DSL/Fiber) for home and businesses for following 54 mandals and 53 Panchayat Samitis,so customers can approach to nearby service centers.
Kurnool Revenue Division
Atmakur, Bethamcherla, C.Belagal, Dhone, Gudur, Jupadu Bungalow, Kallur, Kodumuru, Kothapalle, Krishnagiri, Kurnool, Miduthur, Nandikotkur, Orvakal, Pagidyala, Pamulapadu, Peapally, Srisailam, Veldurthi, Velgode
Nandyal Revenue Division
Allagadda, Banaganapalle, Bandi Atmakur, Chagalamarri, Dornipadu, Gadivemula, Gospadu, Koilkuntla, Kolimigundla, Mahanandi, Nandyal, Owk, Panyam, Rudravaram, Sanjamala, Sirvel, Uyyalawada.
Adoni Revenue Division
Adoni, Alur, Aspari, Chippagiri, Devanakonda, Gonegandla, Halaharvi, Holagunda, Kosigi, Kowthalam, Maddikera, Mantralayam, Nandavaram, Pattikonda, Peddakadabur, Tuggali, Yemmiganur.