BSNL announced the Srikakulam district broadband plans under the guidance of DSL and Bharat Fiber Service. The unlimited combo offers for 3G/4G mobile plan for voice and data services. Customer Service Center(CSC) office address and contact number.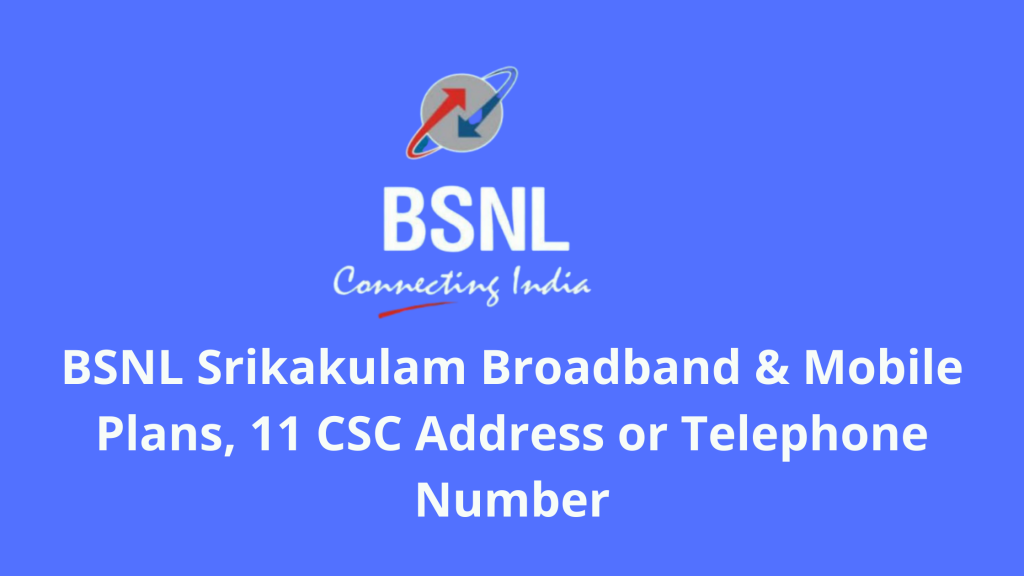 BSNL Srikakulam District Broadband / Mobile Plans with 11 CSC Contact Details
Name of the District / SSA
BSNL Srikakulam Telecom District
Circle
Andhra Pradesh
SSA Headquarters
Srikakulam
Wired Services
Landline, Internet Broadband Plans (DSL / Fiber), EPABX
Mobile Services
2G / 3G / 4G Voice and Data plans
Wireless Services
BSNL WiFi Hotspots, Wings
Facebook
https://www.facebook.com/bsnlapcircle
https://www.facebook.com/bsnlcorporate
Twitter
https://twitter.com/bsnl_ap_circle
https://twitter.com/bsnlcorporate
BSNL Srikakulam District Home & Business Broadband Plans for Rural & Urban Areas (Village & Towns)
For 150GB data, CS300 @ 430 with a download speed of 30Mbps – Get here
For 400GB data, CS95 @ 645 with a download speed of 40Mbps – Click Here
For 650GB data, CS96 @ 1045 with a download speed of 80Mbps – Get here
For 1400GB data, CS20 @ 2795 with a download speed of 100Mbps – Get here
Corporate FTTH Plans starts from 50Mbps up to 100Mbps – Visit here
BSNL DSL Broadband Plans starts from Rs. 299 – Complete details
Pay Srikakulam district postpaid bills of Broadband, landline, and FTTH service– Visit here
Mobile Plans for Srikakulam district across with Andhra Pradesh
BSNL Visakhapatnam District Mobile & Broadband Plans with CSC Location and Telephone Number
BSNL Tirupati Broadband & Mobile Plans with CSC Address and Contact Telephone Number
BSNL Prakasam Broadband Plans & Mobile Plans with CSC Telephone Numbers
Find Your BSNL Mobile Number and SIM Card Number
Pratibha Plus, Ananth, Per Second, Per Minute, Nestham, Amulya, Plan 153, Plan 171, Plan 186, Ananth Plus, Digital India, Plan 485, Star 498, Sixer, Plan 699, Plan 1001, Plan 1312, Plan 1399, Varshika – Visit Complete details
Latest 4G plans in Srikakulam district – Check Latest plans and tariff
Recharge online for your mobile voice and data plans – Login now
BSNL Srikakulam District (SSA) Division Wise Customer Service Center Address with Office Contact Phone Number
BSNL Srikakulam district Customer Service Center (CSC) will function in all working days between 10 AM to 5.30 PM.
Get BSNL holidays list for Srikakulam district – Here
Srikakulam
C.T.O, O/o G.M.T.D, Suryamahal theatre center, Srikakulam 08942-223800
Narasannapeta
CSC, Telephone Exchange, Narasannapeta, 08942-277177
Tekkali
Telecom centre, at SDE-Office, Opp Srinivasa theatre, Railway station road, Tekkali, 08942-244428
Palasa
CSC, at Sub tresury up stair, Palasa, 08945-242218
Amadalavalasa
Telecom centre, at Railway station, Amadalavalasa, 08942–286207
Srikakulam
BSNL CSC, Rythu bazer, Srikakulam, 08942-278444
Pathapatnam
Telecom centre at Telephone exchange, Pathapatnam, 08946-255199
Palakonda
BSNL CSC, Opp Market, Palakonda, 08941-220262
Rajam
Telecom centre, Near RTC Complex, Rajam, 08941-251428
Sompeta
Telecom centre, Telephone exchange, Sompeta, 08947-234236
Ichapuram
BSNL CSC, behind Panchayat Raj office, Ichapuram, 08947-232128
In India, BSNL customer care services with complete contact details
The BSNL customers from 38 mandals (having 12 towns & 973 villages) in Srikakulam telecom district. Take the advantage of unlimited broadband and mobile services. Hence customers of this district in AP circle can approach the nearest CSC for clarification.
Palakonda Division
Bhamini, Hiramandalam, Kotturu, Meliaputti, Palakonda, Pathapatnam, Rajam, Regidi Amadalavalasa, Saravakota, Santhakaviti, Seethampeta, Vangara, Veeraghattam.
Srikakulam Division
Amadalavalasa, Burja, Etcherla, Ganguvari Sigadam, Gara, Lakshmi Narasu Peta, Laveru, Narasannapeta, Ponduru, Polaki, Ranastalam, Sarubujjili, Srikakulam.
Tekkali Division
Ichchapuram, Jalumuru, Kanchili, Kaviti, Kotabommali, Mandasa, Nandigam, Palasa, Santhabommali, Sompeta, Tekkali, Vajrapukotturu.