BSNL Nellore broadband and 3G/4G mobile plan is covered under DSL/Bharat Fiber service. The plan covers urban and rural areas with customer care centre and with phone number as well.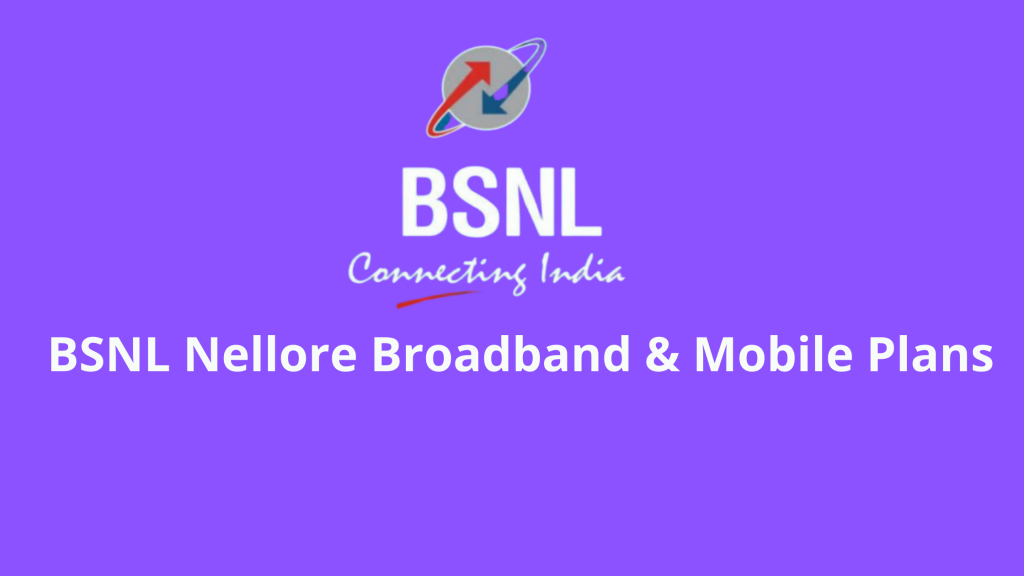 Name of the District / SSA
BSNL Nellore Telecom District
Circle
Andhra Pradesh
Wired Services
Landline, Internet Broadband Plans (DSL / Fiber), EPABX
Mobile Services
2G / 3G / 4G Voice and Data plans
Wireless Services
BSNL WiFi Hotspots, Wings
Facebook
https://www.facebook.com/bsnlapcircle
https://www.facebook.com/bsnlcorporate
Twitter
https://twitter.com/bsnl_ap_circle
https://twitter.com/bsnlcorporate
All over Nellore District Home & Business Broadband Plans
For 150GB, CS300 @ 430 with the download speed of 30Mbps – Get here
For 400GB, CS95 @ 645 with a download speed of 40Mbps – Click Here
For 650GB, CS96 @ 1045 ranging from 80Mbps up to 650GB,– Get here
For 1400GB, CS20 @ 2795 ranging from 100Mbps up to 1400GB, then 10Mbps – Get here
Corporate FTTH Plans ranges from 50Mbps to 100Mbps – Visit here
BSNL DSL Broadband Plans at Rs. 299 – Complete details
Nellore district postpaid bills of Landline, Broadband, and FTTH plans pay online – Visit here
Nellore district Mobile Plan with Andhra Pradesh
BSNL Guntur Mobile Plans and Broadband Plans with CSC Address & Contact Telephone Number
BSNL Tirupati Broadband & Mobile Plans with CSC Address and Contact Telephone Number
BSNL Visakhapatnam District Mobile & Broadband Plans with CSC Location and Telephone Number
BSNL Anantapur Broadband & Mobile Plans with Customer Service Center Location and Telephone Number
Pratibha Plus, Ananth, Per Second, Per Minute, Nestham, Amulya, Plan 153, Plan 171, Plan 186, Ananth Plus, Digital India, Plan 485, Star 498, Sixer, Plan 699, Plan 1001, Plan 1312, Plan 1399, Varshika – Visit Complete details
4G plans present in Nellore district – Check Latest plans and tariff
Recharge online for mobile voice and data plans – Login now
BSNL Nellore District (SSA) Division Wise Customer Service Center Contact Details with Phone Number
BSNL Nellore Customer Service Center (CSC) working time between 10 AM to 5.30 PM.
Nellore district BSNL holiday list – Here
Bharat Sanchar Nigam Limited customer care services contact details – Get here
| Name of the CSC | Address of CSC | Contact Number |
| --- | --- | --- |
| Nellore | O/o PGMTD BSNL, Opp to Leela Mahal, Nellore | 0861 2337788, 2352253 |
| Atmakur | Near Old Bus stand, Atmakur | 08627 210015 |
| Naidupet | Telephone Exchange Compound Naidupet | 08623 277777 |
| Gudur | O/o DE Telecom Gudur | 08624 251599 |
| Venkatagiri | Telephone Exchange Compound, Venkatagiri | 08625 257300 |
| Kavali | CSC, Backside of Telephone Exchange, Near Venkateswara Theatre,Kavali | 08626 244444 |
| Sullurpet | Telephone Exchange, Sullurpet | 08623 242050 |
| BuchiReddyPalem | Near MRO Office, Chennur Road, Buchireddypalem | 08626 272801 |
| Vinjamur | Beside R&B Bungalow, Main Road, Vinjamur | 08626 249499 |
| Udayagiri | Backside of Police Station, Udayagiri | 08620 229999 |
At present BSNL 4G services launched in some areas of Nellore district and covers almost all area.
The following mandals are covered including rural and urban areas.
Atmakur Division

Ananthasagaram, Anumasamudrampeta, Chejerla, Duttalur, Kaluvoya, Marripadu, Sangam, Seetharamapuram, Udayagiri, Vinjamur

Naidupeta Division

Doravarisatram, Naidupeta, Ojili, Pellakur, Sullurupeta, Tada

Nellore Division

Indukurpeta, Muthukur, Nellore, Podalakur, Rapur, Thotapalligudur, Venkatachalam, Kovur.

Gudur Division

Venkatagiri, Chillakur, Chittamur, Dakkili, Gudur, Kota, Manubolu, sydapuram, Vakadu, Balayapalle.

Kavali Division

Allur, Bogole, Buchireddypalem, Dagadarthi, Jaladanki, Kaligiri, Kavali, Kodavalur, Kondapuram, Vidavalur, Varikuntapadu.