First, try to understand what is BSNL VAS? Why we need the activation and deactivation process on prepaid or postpaid mobile? What are the charges applicable for sending messages/USSD and any service stop?
Value-Added Services is the basic service provided by the provider to the mobile. At the subscribed rate, voice, SMS, voting, recorded messages, ring tunes, scores and many more services provided.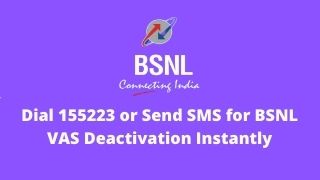 At BSNL customer care, the deactivation of VAS is made possible at a toll-free number. With a single SMS or IVRS, deactivation is made on your mobile.
BSNL Hungama Services Deactivation, How to Get Hungama Refund
Edit BSNL Message Center Number If Outgoing SMS Not Working
BSNL 144 Plan with Unlimited Calls, Free Data, and SMS
BSNL Unlimited Recharge Plans for 3G 4G Data, Calls, SMS
India's Telecom Regulatory Authority of India use the number 155223 to deactivate the voice and SMS service.
With the use of "155223",  VAS activated service can apply within 24 hours.
Value Added Services Deactivation Procedure through SMS
Customer can send the STOP message from toll-free number 155223 for deactivation process.
In case the blank message is received from the customer, it is presumed that SMS is for deactivation process.
The server will take care of service, sequence number and VAS customer name is recorded and the response is required for VAS.
Once the response is recorded from the customer, service is deactivated within a short period of time.
BSNL VAS Deactivation Procedure through IVRS
IVRS facility is available in 2 minimum languages.
On dialling of 155223, VAS activated user get IVRS recorded announcement on VAS on your mobile number. To stop caller tune press 1, to stop jokes press 2 and so on.
If no response is received from consumer then the process is done again. Unless any response receives only then deactivate the service.
The service will be deactivated within 24 hours. If the correct key is not pressed then the call is transferred to customer care.