BSNL East Godavari telecom district announces some mobile and broadband tariff plans. This plan comes under DSL and Bharat Fiber service for 3G 4G voice and data plans for the latest mobile.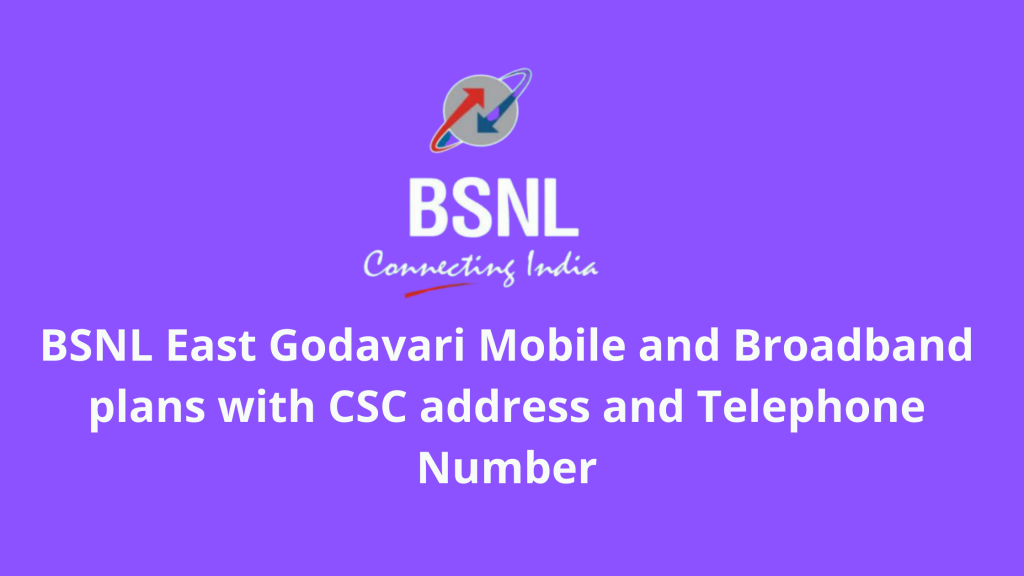 Name of the District / SSA
BSNL East Godavari Telecom District
Circle
Andhra Pradesh
SSA Headquarters
Rajahmundry (RMY)
Major Cities
Rajahmundry, Kakinada
Wired Services
Landline, Internet Broadband Plans (DSL / Fiber), EPABX
Mobile Services
2G / 3G / 4G Voice and Data plans
Wireless Services
BSNL WiFi Hotspots, Wings
Facebook
https://www.facebook.com/bsnlapcircle
https://www.facebook.com/bsnlcorporate
Twitter
https://twitter.com/bsnl_ap_circle
https://twitter.com/bsnlcorporate
 For more convenience, CSC(customer service centre) office location with their addresses and mobile number is shared.
Mobile Plans for East Godavari district across with Andhra Prades
Latest 4G plan of East Godavari District – Check Latest plans and tariff
Recharge easily online for mobile voice and data plans 
BSNL East Godavari District (SSA) Division Wise Customer Service Center Location with Office Phone Number
The office will be opened on all working days between 10 AM to 5.30 PM.
East Godavari district BSNL holiday list
Amalapuram
Dudduvari Agraharam, Exge Building Amalapuram 08856 237111
Mummidivaram
Telephone Exge Bldg Mummidivaram 08856 271300, 271768
Ambajipeta
Telephone Exge Ambajipeta 08856 232222
Tatipaka
Telephone Bhavan, Tatipaka Tatipaka, 8862249000
Samalkot
Meher Junction, Samalkot, 0884 2327380, 2327300
Anaparthi
Telephone Bhavan Anaparthi 8857228255
Pedapuram
Durgajunction, Pedapuram 8852241130
Ravulapalem
Telephone Bhavan, Ravulapalem 8855255800
Dowlaiswaram
Telephone Exchange,Main road, Dowlaiswaram 883241700
Pithapuram
Exchange compound, Pithapuram 8869251600
Mandapeta
Telephone bhavan, Mandapeta 8855233300
Kakinada
DGM office Kakinada 8842372300
Rayavaram
Telephone Bhavan Rayavaram 8857235399
Kothapeta
Telephone Bhavan, Kothapeta 8855255800
Razole
Telephone Bhavan, Razole 886221222
Tuni
Telephone Bhavan, Tuni 8854253100
Ramachandrapuram
Telephone bhavan,Rama chandrapuram
Yanam
Telephone Bhavan,Yanam 8842323800
Yeleswaram
Telephone Exchange, Yeleswaram 8868233000
Rampachodavaram
Telephone Exchange, Rampachodavaram 8864243599
Kakinada
Opp Sarpavam Police Station Junction Kakinada 8842376043
Head post office, Main Road Kakinada 8842376043
Rajahmundry
Near HDFC Bank killari enclave Danavai Peta 8832473595
Fort Gate, G M Office Rajahmundry, 8832473595
Head Post Office Building Rajahmundry, CTO 2428184
Near Gokavavaram Bus Stand, Rajahmundry Ground Floor, Sancharbhavan, Rajahmundry 8832473595
Malkipuram
Telephone Exchange, Malkipuram 8862226250
Addateegala
Main Road Addateegala 08865 224383
Annavaram
Devasthanam Quartrers, Opp RTC Bus Complex Telephone Exchange, Annavaram 8868238040
Korukonda
Korukonda Telephone Exchange( In between Krishna Temple and Andhra Bank), Korukonda 9440444747
Customer care complete details –
Unlimited Broadband plan (DSL and Fiber), covers 64 mandals including urban and rural areas with 7 Revenue divisions comes in AP circle for any service and clarification.
Amalapuram Revenue Division
Atreyapuram, Ainavilli, Allavaram, Amalapuram, Ambajipeta, Katrenikona, Kothapeta, Malikipuram, Mamidikuduru, Mummidivaram, P.Gannavaram, I.Polavaram, Ravulapalem, Razole, Sakhinetipalli, Uppalaguptam.
Etapaka
Chinturu, Kunavaram, Nellipaka, V.R.Puram.
Kakinada
Gollaprolu, Kakinada (Rural), Kakinada (Urban), Karapa, Kothapalle, Pithapuram, Samalkota, Tallarevu.
Peddapuram
Addateegala, Gandepalle, Jaggampeta, Kirlampudi, Kotananduru, Peddapuram, Prathipadu, Rowthulapudi, Sankhavaram, Thondangi, Tuni, Yeleswaram.
Rajahmundry
Alamuru, Gokavaram, Kadiam, Korukonda, Rajahmundry (rural), Rajahmundry (urban), Rajanagaram, Seethanagaram.
Ramachandrapuram
Anaparthy, Biccavolu, K.Gangavaram, Kajuluru, Kapileswarapuram, Mandapeta, Pamarru, Pedapudi, Ramachandrapuram, Rangampeta, Rayavaram.
Rampachodavaram
Devipatnam, Gangavaram, Maredumilli, Rajavommangi, Rampachodavaram, Y.Ramavaram.
Here all details regarding customer service addresses and mobile number for any information.
Visit the portal and get clarified detailed information about the plan.