BSNL recently launches the unlimited features of postpaid plan of Rs.1125. The plan covers the voice, SMS, and data for GSM mobile services. With their unique features, anyone can be migrate to any other prepaid or postpaid plan. Subscriber can subscribe this plan at any point of time.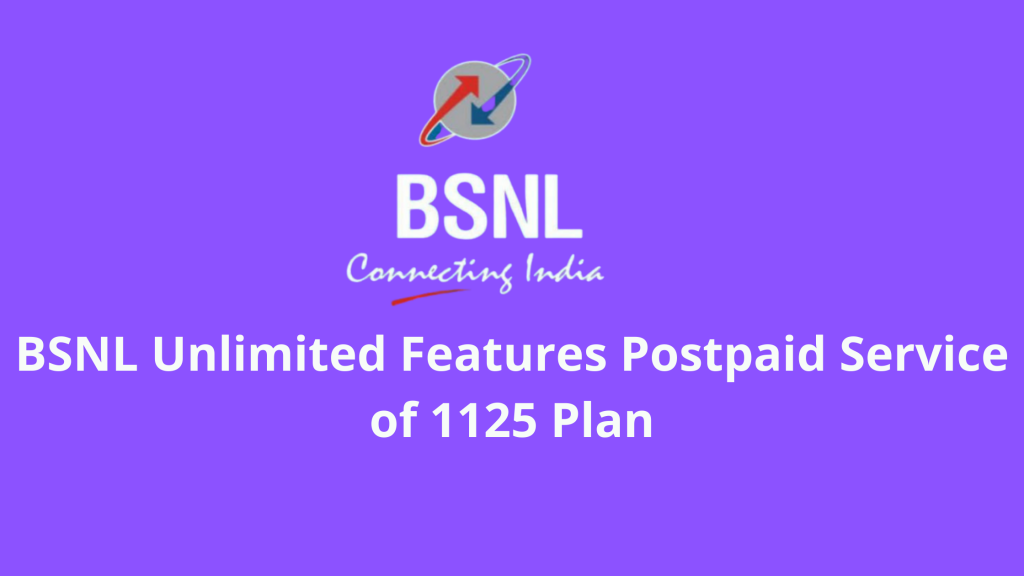 The customer can be benefited by subscribing to this plan as it covers the voice, SMS, and data usage everything in one plan only. No need to do another recharges.
Particulars
BSNL 1125 Postpaid Plan tariff
Activation Charges in Rs
Rs. 100
Security Deposit
Local + STD = Rs. 500, ISD = Rs. 2000,
Local + STD + ISD + International Roaming = Rs 5000
Fixed Monthly Charges
Rs. 1125 + GST
Outgoing Calls from Home and National Roaming
Local / STD Unlimited Own Network (On net) and Other Network (off net) for both landline and Mobile networks.
I/C Calls while Roaming in Min
Free
Free SMS (Local/National) in No's .
100 SMS Per Day (after limit each SMS will charged at Rs. 0.5)
Free Data Usage (MB) in Home LSA as well as in National Roaming
90 GB per month thereafter speed reduced to 40 Kbps
ISD Call tariff
ISD Calls Tariff (Same as for Landline ISD Call Tariff )
SMS charges in Roaming
Rs. 0.25
International Roaming
Rs. 99 per month
International Roaming for Outbound Roamers has to submit requests for provision of service at the home area before leaving.
Visit the website for more detailed features or connect with the customer associate for more details.