BSNL fiber now using a new technology called FTTH technology with new fibernet plans available to connect the corporate world at ultra-speed digitally.
BSNL using fibre to the home technology with the high broadband speed of 200Mbps. This plan is made available to customers. To compete with the Jio and Airtel broadband providers.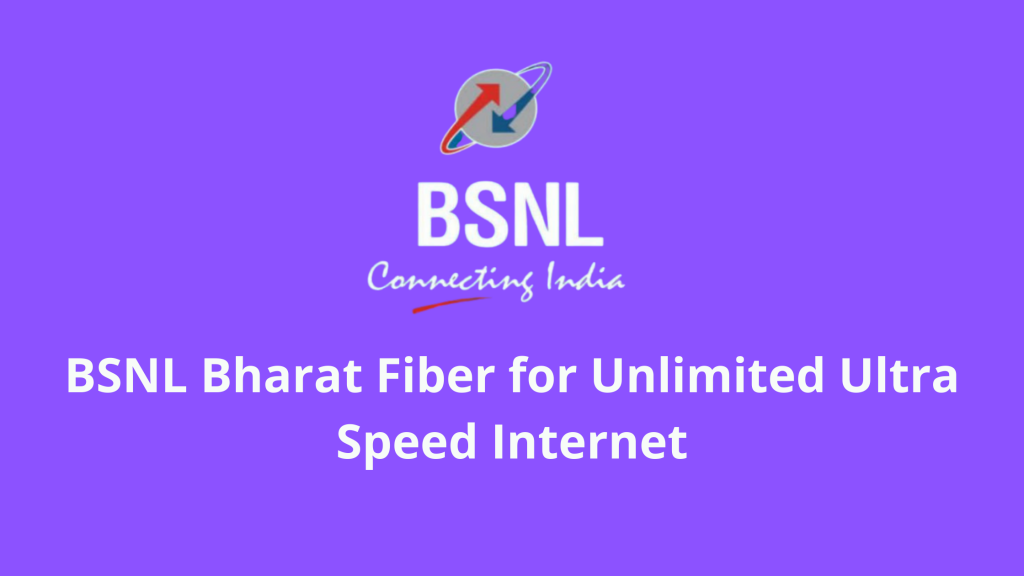 BSNL provides 35 GB data per day with the price charged as 1.1 rupees per GB. The customers who have subscribed with a yearly plan will add additional discount benefits. Free subscriptions to the new account. Hence service from BSNL named as Bharat Fiber.
A BSNL fiber internet plan is made available on internet online through the company website. Moto to expand the BSNL services to every home in India. BSNL started the plans ranging from the speed of 20 Mbps to 100 Mbps. From the company portal, state-wise plans can be check by the customers.
BSNL Bharat Fiber Plans ranges from 20 Mbps to 200 Mbps
Why BSNL Fiber is Raving better Reviews other services
BSNL currently using FTTH plans with a moderate price range. By using a home fibre network, performance-wise it ranges well as compared with other services.
A BSNL internet service spreads all over. With the starting range from low to high on their website, Bharat fibre consists of a Free ONT service facility is one of the factors for fascination to the customers.
The basic plan starts from 20 Mbps speed with 100 GB data provided at just only Rs 499 and for higher speed and data for commercial services 100 Mbps speed with 170 GB  data per day at RS 16,999.
BSNL Bharat Fiber Internet Service Extract
BSNL provides High-Quality High Definition Video on Demand (VoD) and Audio on Demand (AoD)
As per the plan and configuration, the bandwidth range varies.
Remote Connectivity for education, virtual classroom and with the multi-point video conference for game interaction.
VOIP services for calling which is unlimited.
Free high Internet Definition Service without any problem.
Customers get Free Hotstar VIP and 500 superstar offers with a Hotstar Premium account. Bharat fibre subscription, get paid star channels, and free phone services for 24 hours and 365 days free calling in India
1. What Upload Speed does BSNL Bharat fiber Service Provide?
As data is transmitted through the fibre, upload speed same as the download speed and speed at both ends is the same as per the internet plan subscribed by the customer.
2. What is the charge taken for BSNL FTTH installation?
There are no installation charges on BSNL Home Fiber for the plans above Rs 699 monthly. There is an installation charge on monthly as per plan subscribed.
3. Which is the best Plan for New BSNL Bharat fiber Customer?
In terms of speed BSNL 777 fibre planned with any promotional offers on 6 months and up to 849 plans.
4. Any discounts applicable for BSNL Bharat Fiber service?
On the annual plan, new Advance rental discount option, also for already subscribed customers and additional free subscriptions as on 1/2/3 year activation or in the month in Bharat Fiber Service.
5. What is BSNL FTTH & Fibernet and Bharat Fiber?
For ultra-high-speed internet connectivity, Bharat fibre is the service provided to customers as Fiber to Home(FTTH) on PAN India basis from BSNL Or from Telecom Infrastructure Provider.