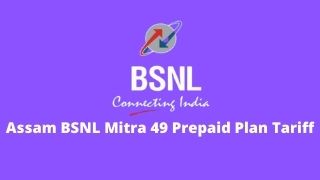 The Assam BSNL Mitra 49 prepaid plan has been introduced in the market under GSM mobile services with a total validity of 90 days, with unlimited voice and data benefits for a fixed period as well as reducing the existing call charges for any Allows to recharge with a special rate cutter.
BSNL Assam Recharge Plans
Particulars
Assam BSNL Mitra 49 Plan Tariff
Plan Voucher Cost
Rupees 49 (for New Activation)
Validity
90 days
Voice
Unlimited calls for new customers in BSNL for 7 days.
Rs. 40 Talktime with a validity of 28 days.
Data
1GB data for 15 days
Voice Call Charges
2 Paisa per second for any network Local calls
2.4 Paisa per second for any network STD calls
SMS
80 paisa per Local SMS and Rs.1.2 for other network SMS
Data Charges
3 Ps / 10 KB (if not recharged with any data plan)
Migration
Allowed to migrate to any plan using existing BSNL Prepaid Recharge Voucher

The customers who migrate from other plans or continue with same Mitra 49 recharge will get Rs. 40 Talktime + 500 MB data valid for 28 days
Subscribed prepaid customers of this Assam BSNL Mitra scheme can also allow migrating to a postpaid plan with the same prepaid number as and when required.