The Assam BSNL Luit Plan offers a prepaid validity of 90 days for a mobile subscriber with a minimum recharge of Rs 21. GSM Mobile Subscriber is never offered with 20 talk time as the main balance, and BSNL Luit plan also offers 3G / 4G. Data, normal call charges by allowing recharging with any special rate cutter to reduce existing call charges.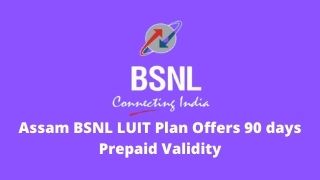 Particulars
Assam Circle BSNL LUIT Plan Tariff
Plan Voucher Amount
Rupees 21 (for New Activation and Migration)
Validity
90 days
Voice
Rs 20 Talktime valid for 21 days
Data
300 MB Free data for 21 days
Voice Call Charges
1.2 Paisa per second for own network Local / STD calls
1.5 Paisa per second for other network local calls
1.8 ps/sec for other n/w STD calls
SMS
80 paisa per Local SMS and Rs.1.2 for other network SMS
Data Charges
3 Ps / 10 KB (if not recharged with any data plan)
Migration
Allowed to migrate to any plan using existing BSNL Prepaid Recharge Voucher
This prepaid plan is one of the best recharge packs in Assam GSM mobile services, with free national roaming and allowed to be converted to postpaid services when required.