Search through your tax notification issued by Kerala government for imposing cess called Kerala Flood Cess applicable to all prepaid and postpaid customers of BSNL in Kerala.
In the month of August 2018, there was heavy flooding in Kerala, causing great loss of life and property to the state, in this regard the Kerala government has decided to impose a cess called Kerala Flood Cess for a period through its tax notification. 2 years for the purpose of providing reconstruction rehabilitation and compensation requirements in the state.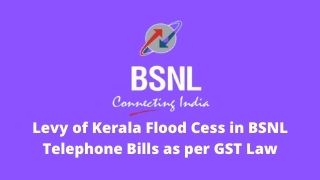 Issues have been briefly presented by the highlight of the notification (80/2019 / Tax dtd 25 May 2019 by Tax (B) Department, Government of Kerala)
• For the imposition of flood cess, the state government has notified Kerala Flood Rules 2019 which will be effective from 1 June 2019.
• Flood cess will be levied on the intrastate supply of goods or services or both incurred by a taxable person for an unregistered person (B2C).
• Flood cess will apply to the following categories of intra-state B2C supply.
| | |
| --- | --- |
| Category of Supply | Rate of Cess on Taxable Value |
| Goods Taxable at the rate of 1.5% SGST | 0.25% |
| Goods taxable at the rate of 6%, 9% or 14% SGST | 1% |
| All taxable services under SGST | 1% |
• Flood cess will be shown separately in the challan
• Every person responsible for paying the amount of cess must file a monthly return as No KFC-A on or before the due date of filling Form GSTR 3B through the official portal keralataxes.gov.in and for the same Will have to be paid Return only.
• The details of external supply which attracts levy o cess will have to be stated in Form No KFC-A which will coincide with the respective details of Form GSTR.
• In the following cases where the cess will not be applicable
• Supply made by a person who has opted for composition levy.
• Supply of discounted goods/services.
• Gives by registered person to another BSNL registered person.
• Inter State Supply
Which BSNL customers have to pay this Kerala Flood Cess?
• BSNL customers of fixed-line (landline/broadband / Bharat fibre), postpaid mobile, leased circuit, online recharge, REM, S&D etc. will have to pay this Kerala flood cess.
How to pay this Kerala flood cess by BSNL customers?
• The customer includes this new flood cess according to the above applicable rates in postpaid telephone bills when the operator is issued, and also for prepaid on recharge.
Is this flood cess applicable to all states?
• As per Kerala GST law, this cess is applicable only to the customers of the state of Kerala.