According to TRAI's report on recently released drive tests, state-run telecom company BSNL has met KPLS in all 5 parameters in both 2G and 3G in 3 cities, which is the best among its rivals, And BSNL's performance is continuously improving. As can be seen from the drive test data conducted by TRAI during the last financial year.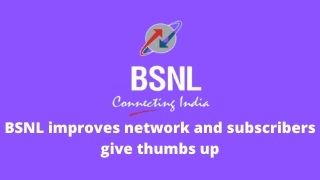 Subscribers always have welcomed achievement in the network performance and attractive plans by porting BSNL in large numbers, and in fiscal 2017 2018, TRAI conducted a driving test in 46 cities and BSNL met the benchmark across 22 cities across all 5 parameters, Tha few other operators, however during the current financial year, BSNL has become the best performing operator by meeting all 5 KPL benchmarks out of 25 cities out of 49, where drive tests (around 20000 KM) were conducted by TRAI, Which is the best of all other operators.
As per the latest TRAI report, BSNL is one of the two operators to show a net increase of 5.56 lakh subscribers in December 2018, recently BSNL has also selected Eros Now with multiple movies options and exclusive video series to its consumers of select STVs. Premium membership is offered. / Rs.78, Rs.98, Rs.298, Rs.333 and Rs.444 schemes.
Mr Vivek Banzai, Director (Consumer Mobility) of BSNL stated that BSNL is committed to providing excellent service to its customers at affordable prices with best plans, therefore, stay with BSNL and be a part of national development.