How to download BSNL bill for landline or broadband service, Is it a task to get a duplicate copy, but we said it is a simple thing to complete within 2 minutes from an online payments service or self-care portal…
On any cause, you can view, download, and print the present or old duplicate bills, but bill downloading for BSNL landline or broadband restricted to 12 months usage or six issued telephone bills. Nowadays many customers can do BSNL bill payment at quick pay portal on getting SMS to their mobiles, where sometimes the customer wants the copy for which also paid.
At that time they are not having due to some common reasons, It is like, misplaced the BSNL bill copy or didn't get the invoice through post or courier.
To overcome this situation, ISP comes up with customer required facility i.e. BSNL bill download online, and It is now available for a user in two ways and also allows to get telephone bills at any time through online payments services and self care portal.
BSNL Bill View
View or download latest bill though BSNL payment portal
BSNL Selfcare Portal to download old and new invoices
Now it's the time to consider BSNL duplicate bill through the Selfcare portal, Aforementioned is the only one portal that allows the customer to save, download BSNL old bills, Before going to the topic, first, you must know when BSNL Landline bill or broadband bill or postpaid mobile invoice is going to release, what are the periods calculating for BSNL Landline telephone bill?
At present all the bills related to the landline are issued to the customers once in two months (bimonthly), In one financial year or a calendar year, a client can have to pay a maximum of six bills, and the usage will calculate every calendar month but issues the bill to a customer in the bimonthly period.
All the free calls offered and usage of the customer calculates after the competition of calendar month, and it means BSNL generates six bills to their client for their 12 months BSNL landline usage and allows to get bill.
Millions of landline subscribers in Metro cities, urban and rural areas across India are considered BSNL landline services, and sometimes the user requires the bill for their reference or to submit for cash back in their organizations.
In that situation, many of them can't be aware of how to print BSNL duplicate bill online instantly in any of the online payments services, now here we will elaborate on the easiest way to view the latest or to get BSNL old bills.
BSNL Bill Download
Login to your registered BSNL Selfcare account.
My Accounts Page will open for you.
Click on the BSNL Landline billing account number to see the usage. It is to view the present or download BSNL old bills and other billing details.

Immediately your next page will open by having Options in the left side panel.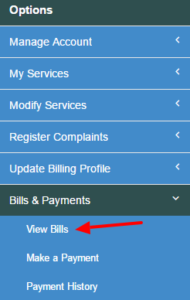 Click on View Bills in Bills & Payments choices in the left bar.
Your final page opens with all the customer and billing account details along with usage, Also, the page indicates Invoice No, Bill Date, Start and End dates, Amount, Due Date, Download bill headers.
You will get the Download Option on the right side of each invoice.
Click on Download BSNL bill for which bill you require.
Immediately your PDF invoice document will download the BSNL bill to your default folder or ask you to save it.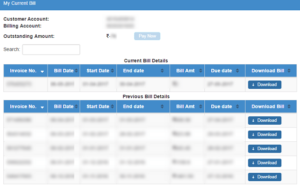 Now you can get BSNL duplicate bill online for old transactions without approaching any customer service centers, so with the above simple steps, you can just download BSNL duplicate bill for landline or broadband within 2 minutes on login to Bharat Sanchar Nigam Limited Selfcare portal, and if you have any queries on downloading which you faced when trying this, just send us.