The online facility to change internet plans for netizens gives a significant relief with BSNL broadband plan change portal, At present, many of us are not having time to approach CSC for submitting the internet tariff conversion request due to various works, Now the gap freed with this new portal facility for internet plan change in online.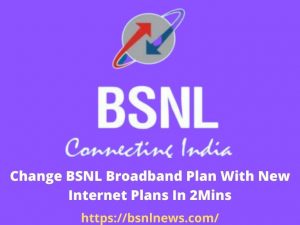 Being a Public Sector Undertaking, adoption of technology culture is a bit tough task while handling change management, It is many's perceptions, but it is not like that now, and PSU is following social media for a positive outlook accepting the complaints from its Facebook page and allowing provisions/ migrations through online by introducing BSNL broadband plan change online portal, the best way to change BSNL broadband plans without moving to the customer service centre.
You can migrate to any internet plan in online as per your wish from anywhere on any device i.e. Desktop, Laptop, Tablet, Smartphone, etc, For this, the broadband customer has just to log in to the BSNL Selfcare portal and follow the below instructions.
BSNL New deposits/charges if any, according to with new internet plans will be levied in next coming telephone bill, So that, you can pay this at quick payment portal or directly at BSNL cash counters.
This BSNL broadband plan change online facility will be available for all netizens in all circles across India, For that, the customer has a just log into the selfcare portal and register as a new user at selfcare portal by filling the details (not required for already registered user).
Follow the simple steps as mentioned below for BSNL broadband plan change online to avail new internet plans cheapest benefits.
BSNL Broadband Plan Change Online at Selfcare Portal
Login to BSNL Selfcare portal using registered username and password on any of your browsers.

Click on Billing Account Number displayed, and then your "Options" panel will load with many features on the left side of the page.


Select Modify Services

Press on Change Tariff Plan


Your right side page will open with four options to confirm the new internet plan

Declaration
Service Type
Select Plan
Confirmation

Click on Next by accepting the Terms and conditions to change broadband plan in Declaration page.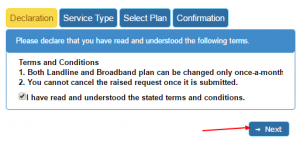 In Service Type Section

Select Landline number from the drop-down list.
Select Broadband in the drop-down list of Landline/Broadband service.
Click on next to move to select the plan.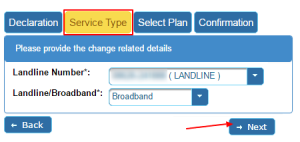 You will move to Select Plan option for BSNL broadband plan change online and displayed the list of available and eligible plans for your number along with currently subscribed tariff.

Choose any new internet plan, which you required to migrate from the list of existing programs shown. Then you will display in a small window containing yearly, two-year and three-year charges with free telephone units available. Close that window after you read.
If you require opting for Annual subscription, visit concerned BSNL CSC or continue monthly.
If the required plan is not presented on this online page, select another page number available to find best plan.
Select your existing plan and required new internet plan in the window
Click on Next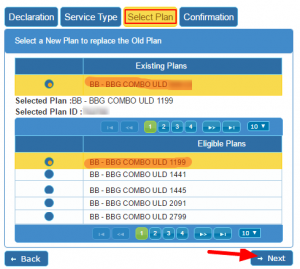 Finally, Confirmation window will open with your old plan and new internet plan which selected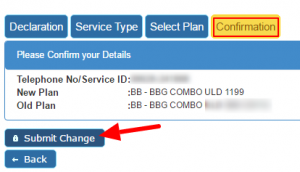 After completion of these above simple steps in this online selfcare portal, you will provide a service request number, On next working day, BSNL official will contact you over the mobile phone number, which you have already provided.
It is just for your confirmation about your BSNL broadband plan change online for new internet plans, then after your confirmation, your new broadband tariff plan will get completed to enjoy the new benefits.
Subscribers can migrate to other plans through online request with new required high speed internet plans from anywhere in the world through Web, So internet users, avail this at any time without any tension, and request for BSNL broadband plan change online with new internet plans unlimited available at Selfcare portal.