Find new prepaid recharge plans list of BSNL for December as of 23/02/2021, View the tariff of one year plan, and check the validity of each FRC 2021 to avail unlimited 4G data and calls with free SMS & applicable full talk time for your mobile in all India…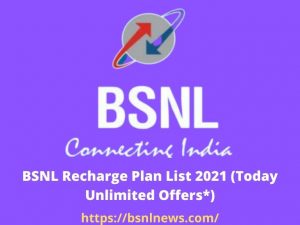 BSNL Recharge Plans
You may check the specific daily prepaid recharge offers, one year plan of Bharat Sanchar Nigam Limited introduced in circles like Tamilnadu, Kerala, Karnataka, Gujarat, Maharashtra etc and also find BSNL all India free roaming facility including Mumbai and Delhi by allowing new prepaid mobile plan with unlimited data and calls, free SMS, even in roaming, and to attract more customers into their web.
BSNL announced a new promotional offer up to 31.03.2021 for PV 399 with 1+1GB data and PV699 with extra validity of 20days
PSU introduced a Welcome offer on a new recharge plan of BSNL applicable for a cell phone for all new customers with a complimentary 4G mobile data on each BSNL validity recharge activation, So have a look at below is the wide range of BSNL new portfolio available for all the users throughout India.
BSNL Recharge Plan
Recharge Plan
FRC Amount in Rs
Free Usage
Freebies Validity
Plan Validity in Days
Per Second 108
(only for new customer)
108
Unlimited calls to any network + 1GB/day + 500 SMS
45 days
60
153 Plan
153
Unlimited calls +1GB/day + 100 SMS/day + Free PRBT
28 days
28
199 Plan
199
Unlimited Free Calls + 2GB/day + 100 SMS/day
30 days
30
365 Plan
365
Unlimited calls + 2GB/day + 100 SMS/day +Free PRBT + Lodhun Contest
60days
365
PV 399
399
Free calls + 100 SMS/day + 1+1GB/day + Free BSNL tunes + Lokdhun content
80
80
485 Plan
485
Free Calls + 1.5GB/day + 100 SMS/day
90 days
90
Sixer
666
Free calls + 1.5GB/day + 100 free SMS for 134 days
120days
120
Plan 699
699
Free Voice calls
0.5GB/day
100SMS/day
Free Tune for first 60days
180 days
180
BSNL 997
997
Unlimited calls+ 3GB/day +100 SMS/day + Lokdhun Content + Sony Liv + Free Caller Tune
180 days
180
BSNL BINDAS BOL
1499
Free calls + 100SMS /day
24GB data
365days
365days
BSNL 1999
(BSNL One Year Plan)
1999
Unlimited calls + 2GB/day FUP + 100 SMS/day + Free Caller Tune for 365 days and Lokdhun Contest for 60days
365
365
BSNL 2399
2399
Unlimited Voice calls every day +
100SMS per day + 3GB/day +
Free Tune + EROS Now
365 + 72
365 + 72
According to local competition, BSNL has also launched various mobile tariffs in some areas in addition to above all India tariffs as a reactive approach to the ever-growing competition of that area, let's check the new specific plan tariffs of BSNL states / different circles
BSNL Recharge Plan Offers
Andhra Pradesh & Telangana Recharge Plans
Andaman Nicobar Recharge
Assam Mobile Plans
Bihar New Recharge
Chhattisgarh Prepaid plans
Gujarat Latest Recharge
Haryana Prepaid
Himachal Pradesh Recharge Plans
Jammu Kashmir Mobile Plans
Jharkhand New Recharge
Karnataka Latest Prepaid
Kerala New Prepaid Recharge
Madhya Pradesh Recharge
Maharashtra Plan Vouchers
North East 1 PV
North East 2 PV
Odisha Vouchers
Punjab Recharge Plans
Rajasthan Prepaid Plans
Tamilnadu Mobile Plans
UP East GSM plans
Uttar Pradesh West GSM Plans
Uttarakhand recharge plans
West Bengal Recharges
For the users seeking unlimited plans for everything even on roaming, these BSNL combo prepaid tariffs introduced with a worth from Rupees 106 to 1999 allowing free mobile data and unlimited calling and free SMS facility is the best when compared to other operators,
After a difficult couple of years, the operator started the installation of 4G network and launched different unlimited BSNL recharge plans in the market with new tariff allowing many ways to activate BSNL validity recharge for voice and 4G data by introducing in support to 4G network as per the competition in each area by allowing all the plans through BSNL online recharge portal.
What is the meaning of freebies?
Freebies are the allowed call/data services offered at free of cost in a certain volume per day or upto validity period for usage in prepaid or postpaid services.
Can I select a new mobile number as per my choice for the above subscription?
Yes, you can choose the SIM numbers online as per your choice and activate them by approaching CSC or Retailer by subscribing to any above-prepaid recharge plans, So that, you can enjoy BSNL unlimited call tariffs to any network and data.
Whether every BSNL recharge plan in the list are available in every state?
Yes, all the plans in the list are available in all states, and in addition to that some circle specific recharge are also launched, you may check the list of states mentioned.
Why some of the plans of BSNL recharge plan list not available with Google Pay or other UPI?
All corporate plans mentioned in the above list of prepaid plans are available in all modes, but some circle specific are not available in some UPI's.
Is there separate recharges for validity and usage in BSNL mobile
Some of the longer validity prepaid plans like 1699 / 1999 provides validity and free usage with same validity, but like 429 /666 provides longer validity with shorter freebies time, so users can check the same before subscription.
Can a customer must have to activate only specified circle plans in their circle?
No, as per customer wish, he/she can activate any required recharge plans of BSNL circle/corporate prepaid service
Why STV does not increases the validity of the main plan?
Special Tariff Voucher designs only to reduce the tariff, so it does not increases the validity, but BSNL Corporate Per Second and Per Minute plans were extended with STV recharges also.
Is BSNL Incoming and Outgoing Free in Mumbai and Delhi?
Many of the prepaid recharge plans of BSNL now offers unlimited incoming calls and outgoing calls even in MTNL Mumbai and Delhi areas also, so just check above tariff.
Can all BSNL unlimited plans provides validity for 4G data and voice plan equally?
Yes, the mention freebies / plan validity in the table applicable for Voice, 4G data and SMS facilities.
PORT IN customers will get BSNL free SIM in prepaid or not?
At the time of PORTING, any MNP customer from JIO / Airtel / Idea Vodafone have to pay Rs 20 for 4G SIM card charges, but in that circle If free SIM offer is continuing, then the customer will get Free 4G SIM, and after activation of MNP, will have to recharge with any of the said BSNL FRC to get working with all facilities.
Can we recharge BSNL plans through UPI payment App?
Yes, all the mentioned BSNL all India prepaid mobile plans can recharge through any of the UPI payments, but if any payment failure happens can approach to that authority only.
How to check my plan validity in mobile itself?
Just dial *123# to check the present balance and main validity along with GPI (Grace period 1) and GP2 periods.
Will STV extend the validity of prepaid plans?
At present the STVs will provide the main validity also along with the freebies.
Whether all these plans will show on BSNL quick recharge site?
Yes, when enters your mobile number, circle and mail address, then your applicable BSNL new 3G / 4G prepaid plans will shown.
Can i activate the same prepaid number to BSNL postpaid SIM, because my company reimburse postpaid bill upto Rs 1000?
Yes, you can migrate from prepaid to postpaid by approaching concerned Cellone Incharge by submitting necessary documents & POI / POA along with required deposits.
Can I recharge these 4G plans from my existing balance?
Yes, you can recharge by dialing USSD code (short code) 444# or by login to mobile selfcare portal or by dialing *124# and selecting options.