Government of India allowed BSNL Aadhaar link to be done online. This new facility is applicable to all mobile operators across India. Currently, this eKYC should only be updated for mobile services. There is no need for broadband and landline related services.
Now, this eKYC provision does not end with online, extending the Aadhaar with IVRS to link online with BSNL mobile number. With these new features, some BSNL mobile subscribers do not need to contact any retailer or CSC for Aadhaar card link.
This all facility in the form of easy service is a major relief to users for linking Aadhaar with the BSNL mobile number online through the internet. But this Aadhaar link online facility is restricted with a one-time password (OTP) for security measures.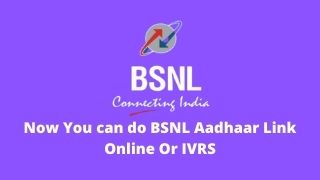 Bsnl aadhaar link online process
Customers who thought in mind that online linking is a risky and hard process, now after go through it, it can change their view and find out the direction of how to link Aadhaar card online with BSNL mobile number.
There are two ways to make Aadhaar link online, they are
1. Connecting through a web portal.
2. Dial BSNL Aadhaar link number and follow IVRS.
The process of Aadhaar link to BSNL mobile number online
Step by step process is available to know how the online process is done without biometric fingerprint for mobile Aadhaar link.
• The first thing is that mobile subscribers have to enter their mobile number (which they want to verify) on the telecom service provider website.
• On entered website the TSP BSNL will send an OTP that we have to confirm. website.
• The original customer of that mobile number will then have to submit the same OTP on the same web portal.
• You will see a message on your mobile screen, then you have to enter your Aadhaar number in the consent box.
• Then Telecom service provider role is to send an OTP request to UIDAI. If any other mobile number is registered with that Aadhaar number, you will receive OTP on it.
• After that, you will also get a 'Consent Message' from UIDAI about your e-KYC details. He has to file the OTP after accepting the necessary terms and conditions.
• Once accepted, authentication and confirmation are sent to your mobile stating that the number has been verified again with the corresponding Aadhaar number.
Who are eligible for Aadhaar link online?
See the acceptable category of online Aadhaar to your BSNL mobile number before the declared date.
1. Indian Senior Citizen.
2. Physically handicapped with Aadhaar number.
3. Reuse of NRI customer mobile number without Aadhaar.
BSNL Aadhaar Link through IVRS
See the second method Aadhaar linking online is provides a voice-based IVR (Interactive Voice Response) helpline.
• Mobile service provider will allow dialling a number to activate BSNL Aadhaar link.
• When a customer dials the BSNL Aadhaar link number from that mobile number, the IVR system will run a 'Consent Message'. It is asking you to provide the BSNL mobile number that you want to link to Aadhaar.
• An OTP request will then be sent to UIDAI to verify the Aadhaar number associated with that account.
• An OTP number will come in the form of SMS linked to the respective Aadhar card on the mobile number.
• A consent message 'will run again on the IVR system.
• The mobile subscriber must share the OTP received on the IVR. If true, the customer's e-KYC details will be obtained from UIDAI for online processing of BSNL Aadhaar link.
• If the e-KYC details on the BSNL Aadhaar link number arrive correctly, a successful 'Mobile re-verification' message will appear on the IVR system.
• An SMS notification on the subscriber's mobile number for rich BSNL Aadhaar link will also be received online.
Is there any chance of online failure of BSNL Aadhaar link?
• If the authentication of the mobile subscriber in any of the above two Aadhaar link online modes is unsuccessful, the telecom operator will inform the status of online verification of the Aadhaar link on the registered mobile number.
He and he are not allowed to do the Aadhaar link online and the OTP verification process will be used through the biometric authentication process available with BSNL CSC or any retailer.
This new initiative taken by GOI (BSNL Aadhar Link Number IVRS / Online) helps millions of BSNL customers, especially for old age. Additional some retailers are also there who allow BSNL Aadhaar verification process through BSNL Swift App, you no need to download BSNL Swift App to process Aadhaar link.
• As per the guidelines, this new Aadhaar link started online as per the instructions of the Government of India. So check the official website for the availability of online links for verification. The last date for BSNL Aadhaar link online is 31.03.2018, but now it is indefinitely