The BSNL Mithram plus Kerala prepaid plan announced the unlimited voice and data of 5GB. The plan is circle specific and covers areas of Kerala.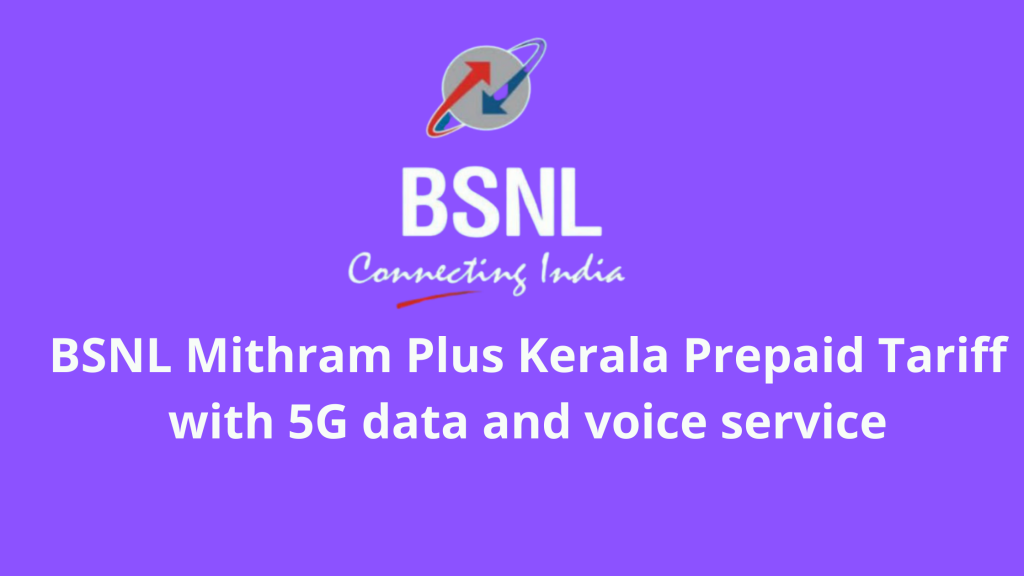 Mithram New is redesigned into BSNL Mithram Plus is available for 20 days.
The new plan is a circle specific with existing BSNL 4G prepaid recharge plans.
Particulars
Tariff
Plan Voucher Cost in Rs
109
Applicable for
All Mobile Users only in BSNL Kerala circle only
Freebies offered with New FRC / Extension / Migration
> 250 Minutes free voice calls per day for local / STD including Mumbai / Delhi for 20 days
> 5GB Data for 20 days
Local / STD Voice Call charges after Freebies
Rs. 1.2 paise per second for own network,
Rs. 1.5 ps for other network
SMS charges
Local Own at 60Ps/SMS and Local Other at 70Ps per SMS
STD Onnet at 70Ps/SMS and STD Offnet at 80Ps per SMS
International at Rs 5 per SMS
Data usages charges after free
25 paise / MB
Plan Validity
90 days
Allowed
All Prepaid Special Tariff Vouchers to reduce the tariff
Plan Migration SMS to 123
Plan Mithram Plus
(Corresponding Amount should be deducted from main balance if available and extend the validity along with freebies)
Plan Activation code with USSD
*444*109#
BSNL Mithram Plus with updated Tariff
BSNL Online Recharge Portal can be activated with Kerala Mithram Plus.
BSNL Deepam Plan Kerala Tariff with Free Talktime.
BSNL Kerala Plan Tariff with Unlimited calls for 81 days
BSNL Recharge Plan List for Unlimited (Today Offers*)
BSNL Ananth 105 and Ananth Plus 328 Prepaid Unlimited Plans