Exclusive BSNL Fiber plans of FTTH broadband network updated as on 02/02/2021, check the new speeds of each plan and choose the best fiber fiber broadband plan for your home or business internet connection…
BSNL Fiber Plans
BSNL is installing Bharat Net a country-wide fiber optic cable for internet connectivity in many of the panchayats, and on the other hand, ISP brought the same fibernet technology to your doorstep directly and through TIPs.
Telecom Infrastructure Providers (TIPs) with new Fiber plans covering many isolated pockets in all the circles of the country for 50Mbps to 300 Mbps internet speed on providing with BSNL FTTH Plans along with FREE ONT as per the possibility, Have a look at the best fiber optic internet plans tariff 2020.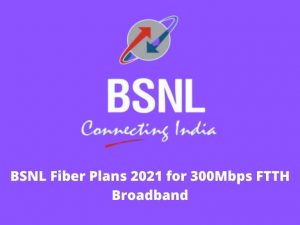 BSNL Fiber Plans February 2021
Rent per Month in Rs
FiberNet Plan Name
Download / Upload Speed ⏬⏫
High Speed FUP ⏬⏫
449 #
Fibre Basic
(Only for New Customers)
30 Mbps
3.3 TB (3300MB)
599
Fiber Basic Plus
60Mbps
3300 GB
799 #
Fibre Value
100 Mbps
3.3 TB
999 #
Fibre Premium
200 Mbps + Hotstar subscription
3.3 TB
1499 #
Fibre Ultra
300 Mbps + Hotstar Subscription
4000 GB
499
100GB CUL
50Mbps
100GB per month, then 2Mbps
779 *
Superstar 300
100Mbps
300GB per month, after 2Mbps
777
500GB CUL
100Mbps
500GB per month, after 5Mbps
849
600GB CUL
100Mbps
600GB per month, after 10Mbps
949 *
Super Star 500
100Mbps
500GB per month, then 10Mbps
1277
750GB Plan
100Mbps
3.3TB per month, after 15Mbps
1999
33GB CUL
200Mbps
4TB per month, after 20Mbps
1999
1500GB CUL CS55
(Available in Telangana, & Chennai)
200 Mbps
4TB per month, then 20Mbps
2499
40GB CUL
200Mbps
4TB per month, then 20Mbps
4499
55GB CUL
200Mbps
4TB per month, then 20Mbps
5999
80GB CUL
200Mbps
4TB per month, then 20Mbps
9999
120GB CUL
200Mbps
4TB per month, then 20Mbps
16999
170GB CUL
200Mbps
170GB per day, then 20Mbps
*Super Star 300 provides with Free Hotstar VIP and Super Star 500 offers with Free Hotstar Premium.
# Promotional Plans from 04.01.2021 to 03.04.2021
These ultra-speed Fiber Plans have a maximum fair usage policy limit each plan, and many of the fibernet plans allow ONE free Static IP address, where all the BSNL FTTH plans provides "Phone plus services" as free phone service with 24 hours 365 days unlimited free calling to any network in India.
BSNL introduced different specific bandwidth plans under fibernet as per the local competition of that area from 30Mbps to 300Mbps download speed, check the state wise specific Bharat Fibernet tariffs now
BSNL Bharat Fiber (FTTH) Plans
Andhra Pradesh (AP)
Andaman Nicobar
Assam
Bangalore
Bihar
Chhattisgarh
Chennai
Gujarat
Haryana
Himachal Pradesh
Jammu Kashmir
Jharkhand
Karnataka
Kerala
Madhya Pradesh
Maharashtra
North East 1
North East 2
Odisha
Punjab
Rajasthan
Tamilnadu
Telangana
Uttar Pradesh East
Uttar Pradesh West
Uttarakhand
West Bengal
BSNL fiber to home provides fault free internet services and makes your home or business as high speed WiFi zone with fiber optic internet connection upto 100Mbps speed for download or upload, and there is no fiber broadband availability checker in online, So just apply online, then BSNL executives will contact you to provide FTTH through TIPs or directly.
How to change BSNL FTTH plan online?
Login to BSNL Selfcare portal registered account and raise a request to change your BSNL FTTH plan online with your required tariff.
How to configure BSNL FTTH modem with router
You may configure WiFi router as with old process, and connect the router to BSNL FTTH modem with a LAN cable.
What is the upload speed in BSNL Bharat Fiber Service?
In all the BSNL FTTH plans under Bharat Fiber Service, the download and upload speed is same as mentioned.
How to check BSNL FTTH usage?
You can check BSNL FTTH usage in many ways like through selfcare portal login or without login and through the mobile app.
Is there any installation charges for BSNL FTTH?
There is no kind of installation charges for the plans who opted annually and more period, but for monthly plans, an amount of Rs.500 will be charged in first bill as installation charges.
If an existing customer migrates to higher FTTH plan, can we pay the deposit again?
The fiber optic broadband customers have to choose any one of the above BSNL FTTH (Bharat Fiber) plans, if opts higher plan, he/she have to pay the balance security deposit (added in future bill) in the next bill.
Where we have to complain about BSNL FTTH faulty line or speed?
Raise a complaint in online or through selfcare portal or by dialing 198 from BSNL mobile or landline, you can register the complaint against speed issue or faulty FTTH line.