BSNL spreading its wings in every sector. To cover every area. BSNL introduced the Enterprise Business portal specially for the corporate telecom sector. Corporate telecom service includes the BSNL mobile, Broadband, Dark Fiber, Bulk SMS. Customers need to register for the required service from the BSNL enterprise business portal.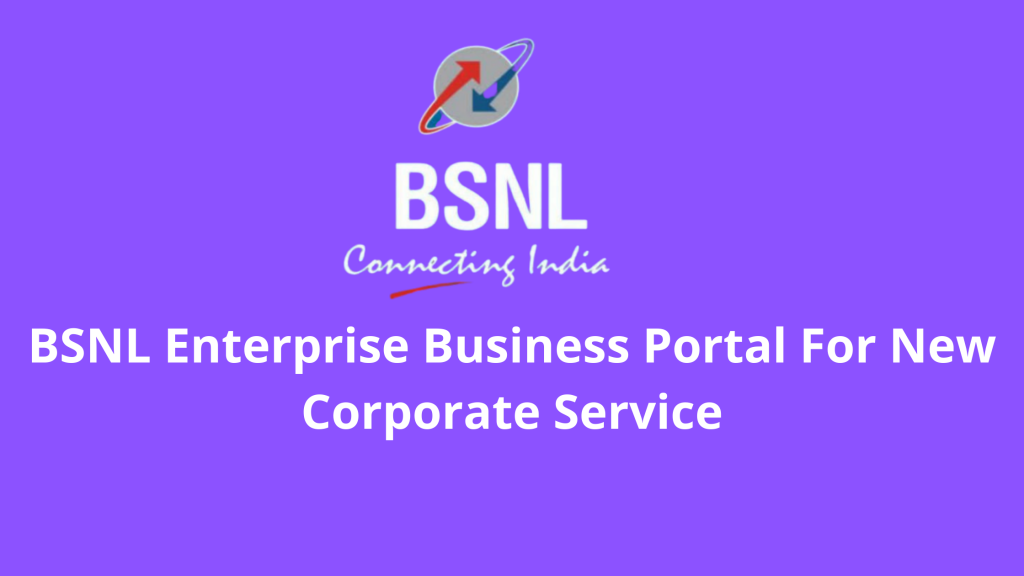 BSNL intension to make corporate customers happy with their dedicated work. Online customer portal for the registration process and for detailed information about the plan is specified on web care service.
Latest technologies are used with highly equipped ISP in Telecom and IT professional for corporate or for Enterprise customers. Sectors like public sector unit, Government departments, College, universities, companies and hotel customers should be cover under the single window for different telecom services.
With the new launch of BSNL Enterprise Business Portal, corporate customers able to do online process and recharges in a few steps.
BSNL BROADBAND
BULK PUSH SMS
DID
CDMA
Corporate MNP
VPNo3G
VPNoBB
VPNoFTTH
DATA CARD
DARK FIBER
EPABX
BHARAT FIBER BROABAND
FTTH VOICE
HOTLINE
IPTV
ISDN
POSTPAID MOBILE
PREPAID MOBILE
RING BACK TUNES
(CALLER TUNES)
TELE CALLER
TOLL FREE NUMBER
VSAT
WIFI HOTSPOT
CORPORATE MOBILE
CUG GROUP
WiFi
How to Book Enterprise Business Service in Online Portal
It is easy to book for enterprise business service. Steps to be followed by customers for booking.
Follow the link by opening any browser. Use the latest version of the browser for convenience.
2. Enter the Description of Service to be required
Submit the details like bharat fiber, broadband, data card, BSNL mobile etc.
3. Select Category Of Service
Type of service required should be selected properly.
4. Enter Company Name
Provide the details like company name or enterprise name to BSNL portal.
5. Enter Contact Name
Complete details like authorize person name information.
6. Provide Other Details
Need to fill the details like full address for connection, Contact number, Email address.
7. Enter Captcha Code
Without Captcha code, form cannot be accepted by the browser. Consider as incomplete form, so enter the captcha written over left side.
8. Click Submit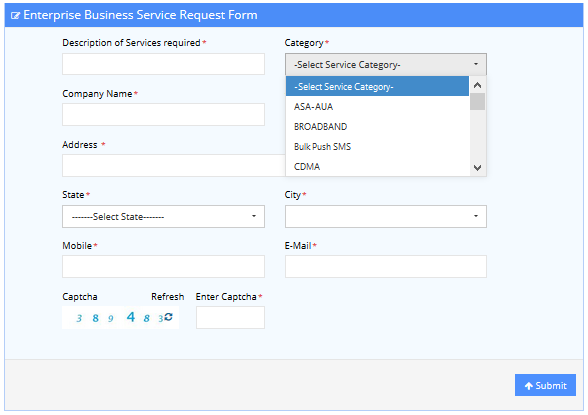 Finally submit the form with detailed information.
Whom will approach to provide enterprise connections?
Concerned person of the unit of BSNL Enterprise Business Team will approach to corporate customer. After completing whole booking process, required BSNL telecom plan be provided in a speedy manner.
2. Can we pay all the deposit and other payment in online?
No, online mode of payment is not collected for initial process. The deposit or receipt will be given by the approach team. The concerned person will approach you if demand note for security deposit is raised.
3. Is this Enterprise Business Portal is common for all the customers in India?
Yes, uniformity is followed by customers all over India. For metro cities like Hyderabad, Pune, Ahmedabad, Chennai, Bangalore, Mumbai, Calcutta and the rest of India can book for BSNL Enterprise Business Portal.