Canara bank signed a memorandum of understanding with BSNL employee for extending the personal loan and car loan in 2019. It has signed on 28.05.2019 with an extended validity of twelve-month from 01.01.2019 to 31.12.2019. The general terms of conditions, rate of interests for loan schemes to BSNL employee.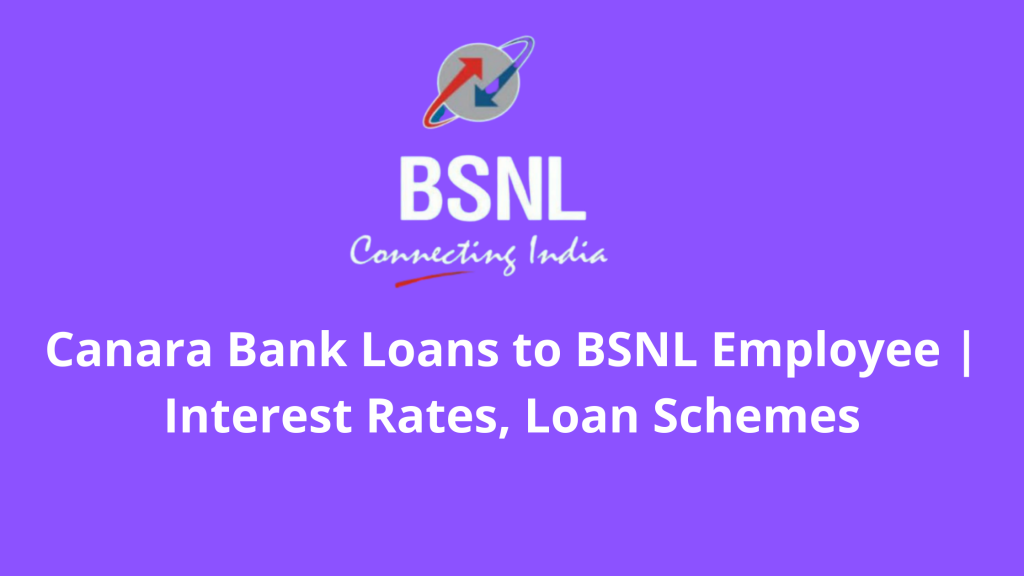 Eligibility, Condition & Interest Rates of Canara Bank Loan Schemes to BSNL Employee
The bank will grant two types of loan schemes as per requirement
Car Loan(Canara Vehicle Loan)
Personal Loan(Canara Budget Loan)
The loan is a sanctioned by doing a calculation that the net take-home salary after loan instalment is less than 25% of gross salary after deductions like(GIPF, EPF, EMI, Income Tax, and Insurance). In reemployed or person employ in contract basis, pension of an employee is included by calculating 25%net take-home pay.
Canara Vehicle 4 Wheeler Loan – Details
The loan is provided only to New/ Used car only.
90% maximum on road price on new vehicle and 75% on old vehicle.
For old vehicle, maximum loan upto Rs 15 lakh is allowed.
The employee who is regular from 3 years of service with minimum basic pay of 9000 per month and total salary comes as Rs 23000 per month are eligible for loan.
The margin amount of 10% on road price for old vehicles and 25% for new vehicles.
EMI period of 84 months for new vehicles and 60 months for old vehicles.
Canara Budget Loan (Personal Loan) for BSNL employee
To meet the genuine personal requirements, personal loan to BSNL employee is provided.
Maximum 20 times of gross salary covers almost Rs 10 lakhs
Provide loan facility to all confirmed BSNL employees
There is no requirement of margin amount.
The total loan amount is cleared in 60 months.
Loan Interest Rates of Canara Bank
Nature of Loan
Loan Amount
Rate of Interest
Canara Vehicle Loan
Four Wheelers
90% of on road price for New & 75% for Old vehicles
Risk Rating
Women
Others
Low Risk
8.8
(MCLR+0.10)
8.85
(MCLR+0.15)
Normal Risk
8.95 (MCLR + 0.25)
9.00
(MCLR+0.30)
Moderate Risk
9.10
(MCLR+0.40)
9.20
(MCLR+0.50)
High Risk
9.35
(MCLR+0.65)
9.45
(MCLR+0.75)
In the Instant case, a uniform concession of 0.2% is permitted
Canara Budget Loan (Personal Loan)
20 Months gross salary subject to a maximum of Rs.10.00 Lakhs
One Year MCLR + 2.30% i.e. presently 11.00% per annum and reset after one year, involving an interest concession of 200 bps
What is the processing charges on loans of BSNL employee?
There is no any processing fee on sanctioned personal loan or car loan from BSNL employees.
When will the Loan repayment EMI start?
The repayment of loan starts after the disbursal of the loan in the form of EMI. Moreover depends on type of loan taken from bank.
Whenever there is a revision in ROI (Rate of Interest), the EMI is fixed or changed?
In case, if there is any change in Rate of Interest, revised EMI can be communicated to M/S BSNL employee. That will effect on revised salary mandate and same will duly registered on papers of Canara Bank.
What is the due date for the loan EMI payment every month?
15th of every month, last date for DDOs to collect the payment. In case of any delay in payment, bank will impose interest rate for EMI as per rules.
What is the prepayment charges for Canara Bank loan foreclosure?
As per MOU, the bank will not charge any penalty interest for prepayment or for the closure of loan(car/personal). As employee will pay the amount from his own sources.
What are the prepayment penalty charges for the general customer?
If loan is sanctioned under general category, prepayment @2% per annum is charged on outstanding loan amount.
Whether it is mandatory to submit salary mandate by the employer?
Yes, salary mandate from duly registered with Salary Disbursing Authority.
Existing Loan Account holder can rollover to new loan?
No, first close the existing loan and then apply for fresh loan from Canara Bank with the new application.