What is BSNL Circle and LSA? LSA full form in Telecom is Licensed Service Area which also calls as Local Service Area BSNL…
In the telecom sector, LSA stands for Licensed Service Area or Local Service Area. In operation and maintenance, the administrative unit of service provider named as Home Circle BSNL. With 24 telecom circles and two metro districts, BSNL got unified license agreement. To provide the transmission, voice data, non-voice message services on license network.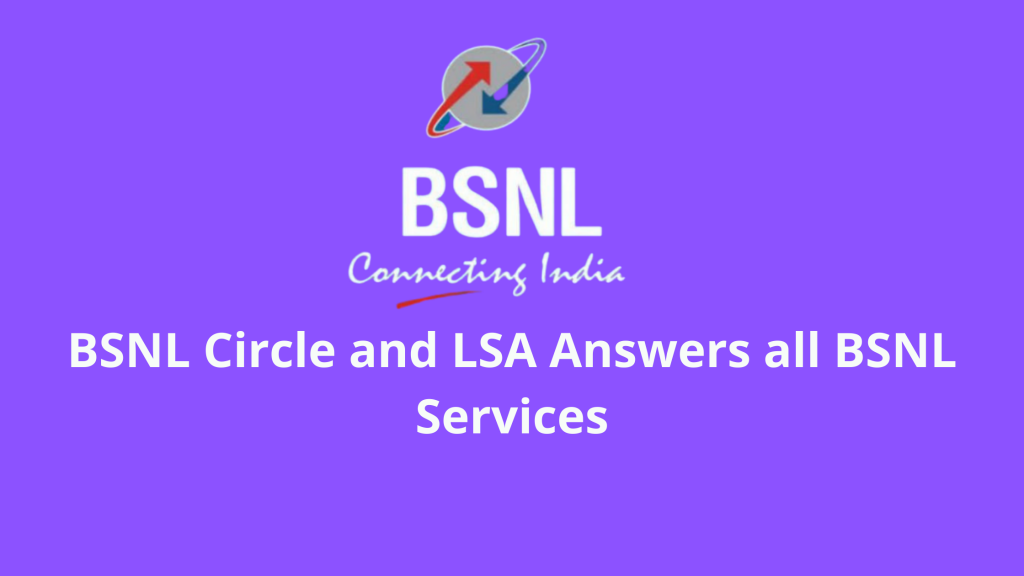 After 160 years of telegram service, BSNL discontinued telegram services from 15th July 2013.
What is meant by BSNL Home LSA?
As per telecom license India, BSNL provides Landline services and also GSM 2G/3G mobile services on BSNL LSA.
According to the area of operations, at present each circle is a BSNL Home LSA.
For one circle, subscriber get the mobile number then he will be considered as local consumer of that particular area.
BSNL LSA / Circle in East Zone
Andaman Nicobar, Bihar, Assam, Jharkhand, NE1(Mizoram, Tripura, Meghalaya), NE2 (Arunachal Pradesh, Nagaland, Manipur), West Bengal and Orissa includes Sikkim.
West Zone BSNL Home LSA/Circles
Chhattisgarh, Madhya Pradesh, Gujarat, Maharashtra includes Goa.
BSNL LSA / Circles in North
Haryana, Himachal Pradesh (HP), Jammu and Kashmir, Punjab, Rajasthan, UP(East), UP(West) and Uttaranchal.
BSNL South Zone LSA/ Circles
Andhra Pradesh including Telangana, Karnataka, Kerala, Tamilnadu.
Metro Districts Of BSNL
Chennai Telecom District (CHTD) under Tamilnadu BSNL LSA, Kolkata TD under WestBengal LSA.
Benefits to a customer within BSNL Home LSA?
The customers enjoy the customized plans, BSNL recharge offers today, Special Tariff Vouchers, and many more offers to reduce the mobile tariff of that circle only.
The Voice call has the restrictions on the home circle but free data is allowed on the subscribed plan.
BSNL FTTH customer service with 100% fault free service on the internet and broadband. The zonal CUG plan for free talking within the group. Rather than CUG, free-roaming, and free outgoing calls from other states or LSA.
Specialized Units of BSNL
Broadband Network.
National Centre for Next Generation Network (NCNGN).
Inspection Circle.
Quality Assurance (QA).
Telecom Factories in India
Jabalpur under Madhya Pradesh
Kolkata under West Bengal
Mumbai under Maharashtra circle.
BSNL Training Centers in various circles within India
Advanced Level Telecom Training Centre (ALTTC) located in Rajnagar, Ghaziabad, Uttar Pradesh.
Bharat Ratna Bhim Rao Ambedkar Institute of Telecom Training (BRBAITT) center in Jabalpur, India.
National Academy Of Telecom Finance and Management (NATFM), an apex training institute of BSNL at Telecom Nagar, Gachibowli, Hyderabad, Telangana 500032.
Regional Telecom Training Center (RTTC) at various locations Mysore, Hyderabad, Chennai, Trivandrum, Mysore, Nagpur.
In the present industry, BSNL motto provides telecom and information technology to upcoming generations. Offers various advanced courses which are essential for society.