BSNL announced the new broadband, 3G/4G mobile plans for Cuddalore district. The 15 CSC office address and contact phone number with new detailed unlimited combo plans. The DSL/Bharat  Fiber service with detailed customer service centre can be reached easily.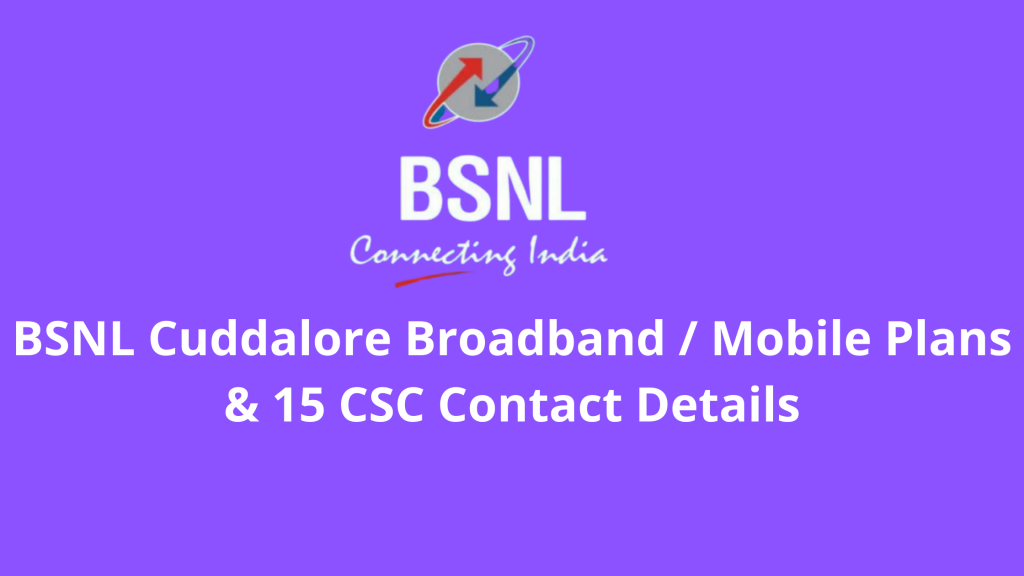 Name of the District / SSA
BSNL Cuddalore Telecom District
Circle
BSNL Tamilnadu
SSA Headquarters
Cuddalore
Wired Services
Landline, Internet Broadband Plans (DSL / Fiber), EPABX
Mobile Services
2G / 3G / 4G Voice and Data plans
Wireless Services
BSNL WiFi Hotspots, WINGS IP Telephone
Facebook Page
https://www.facebook.com/BSNLTamilnadu
https://www.facebook.com/bsnlcorporate
Twitter Page ID
https://twitter.com/BSNL_TN
https://twitter.com/bsnlcorporate
BSNL Cuddlore District Home & Business Broadband Plans for Rural & Urban Areas (Village & Towns)
3600GB CUL CS352 @ 30Mbps download speed – Check now
Corporate FTTH plans 50Mbps to 100Mbps – Visit here
BSNL DSL broadband plans at Rs 299
Tamilnadu Broadband plans – Visit Now
Postpaid bills of landline, FTTH, and broadband pay in  Cuddalore district
Mobile Plans for Cuddalore district
Visit Complete details – Second plan, Minute plan, Nesam Gold, Vasantham Gold, FRC 108, Plan 153, PV186, PV 365, Plan 429, Plan 485, BSNL Sixer Plan, PV 997, PLAN MARUTHAM, Plan 1699, PV 1999
Available 4G plans – Check Latest plans and tariff
For voice and data plans recharge online- login now
BSNL Cuddalore District (SSA) Division Wise Customer Service Center Address with Office Contact Phone Number
Function in all working days between 10 AM to 5:30 PM.
BSNL holidays from Cuddalore district – Get Now
Arakandanallur
Telephone Exchange, Arakandanallur – 605752. Contact Ph: 04153-224700
Chidanbaram
MBM Telephone Exge, Chidanbaram – 608001, 04144-231100
CTO Building, South Sannadhi Street, Chidambaram – 608001, Ph: 04144-222800
Kattumannarkoil
CSC BSNL Gnana Vinayakar koil street, Kattumannarkoil – 608301, Ph: 04144-262020
Cuddalore
TRA Integrated Building, Hospital Road, Cuddalore, Ph: 04142-230120
Nellikuppam
CSC, Telephone Exge, Kandasamy Street, Nellikuppam, 607105, Ph: 04142-272999
Neyveli
CSC, Telephone Exge, Block-16, Neyveli – 607801, Ph: 04142-281000
Panruti
BSNL CSC, Telephone Xge, Satya murthi Street, Panruti – 607106, Phone: 04142-243002
Gingee
CSC, Telephone Exchange, Tindivanam Rd, Gingee – 604202, Phone: 04145-222784
Kallakurichi
CSC, Telephone Exge, Gandhi Road, Kallakurichi – 606202, Ph: 04151-223585
Sankarapuram
CSC BSNL, Sankarapuram, Ph: 04151-254455
Tindivanam
CSC, Telephone Exchange, Tindivanam, 604001, Ph: 04147-222786
Telephone Xge, Virudhachalam Road, Ulundurpet -606107, Ph: 04149-222999
Villupuram
CSC,Telephone Xge, Hospital Road, Villupuram -605602, Ph: 04146-224600
Vridhachalam
Telephone Xge, Junction Road, Vridhachalam – 606001, Phone- 04143-261200
For contact details
BSNL unlimited broadband plans (DSL/Fiber) for home and business, following talukas and district in Tamilnadu circle. For clarification, the nearest CSC is mentioned on the latest BSNL Cuddalore district broadband and mobile plans.
Talukas
Chidambaram Cuddalore Kattumannarkoil Panruti Tittakudi Kurinjipadi Vriddachalam
Blocks
Annagramam, Bhuvanagiri, Cuddalore, Kammapuram, Kattumannarkoil, Keerapalayam, Komaratchi, Kurinjipadi, Mangalur, Nallur, Panruti, Parangipettai, Vriddhachalam.
Customers can take benefits of the above customer service centre with respective address and contact number.