To access the Best of your Mobile Internet you need The Best Internet Settings.
Here I am sharing The Best 3G/4G BSNL APN Settings for You Updated 2022.
APN stands for Access Point Name that helps the user to connect to the Internet, Here I will share some of the best 3G/4G BSNL APN Settings for Android and iPhone users.
In most cases when you insert any new Sim to your Mobile phone the default APN settings for that Sim get automatically updated on your Phone.
How can I get BSNL Internet settings?
Nowadays You get preinstalled BSNL Internet Settings on your phone with the Sim. To get the Internet settings you can call on 121, OR type GPRS and send it to 53733 and you will receive the settings via SMS.
But Sometimes the mobile may not function properly or someone just changed your Sim APN and you are not able to connect to the Internet or won't get the fast Internet experience.
– > The Most Popular BSNL 397 Plan is Here
Also Check:- The Best BSNL Broadband Plans for Home
Benefits of Using Best APN Settings for BSNL:
You get to use the High Speed 3G/4G Internet on your Phone
Less Connection Errors while using the Internet
No Connection delay or Offline Mode if you use this APN setting.
Best BSNL Apn Settings for 4G Connection :
Here is one table below that will show you the default BSNL APN Settings for 3G and 4G networks for All Android and iPhone Mobiles. If you know how to change the settings then directly use this table and copy the settings.
Those who don't know how to change APN Settings on your Phone stay connected I will share the guide below.
| Setting Name | Value |
| --- | --- |
| Name | BSNL Internet |
| APN | bsnlnet |
| Server | Not Set |
| MCC | Leave Default |
| MNC | Leave Default |
| Authentication Type | Not Set |
| APN type | default |
| APN Protocol | IPV4/IPV6 |
| APN Roaming Protocol | IPV4 |
| Bearer | Unspecified |
BSNL Internet Settings Updated 2022
How to Change BSNL APN Settings for Android?
Now from the table above we get to know that The Best BSNL APN Settings for Fast Internet is bsnlnet and leaving other settings as it is.
Follow the steps given below and change BSNL APN Settings for Android:
First, go to Mobile Settings >> Mobile Network Settings
Then Choose the Sim Card you want to set up (Choose BSNL Sim)
Now go to Access Point Name and you will see one set is already there.
Click on the Default BSNL APN Setting already available to edit. (and Take a screenshot for backup)
Now Change the Settings as per given in the table and save.
Now Restart your Android Phone Connect to the Internet and check the Speed experience.
Please Note: Sometimes due to Poor Network or heavy network congestion/usage you might experience slow internet and discontinue Internet, then you may change the sim network.
Prot to Another Provider:
Port BSNL to Jio for Better Coverage
Port BSNL to Airtel for better Internet Speed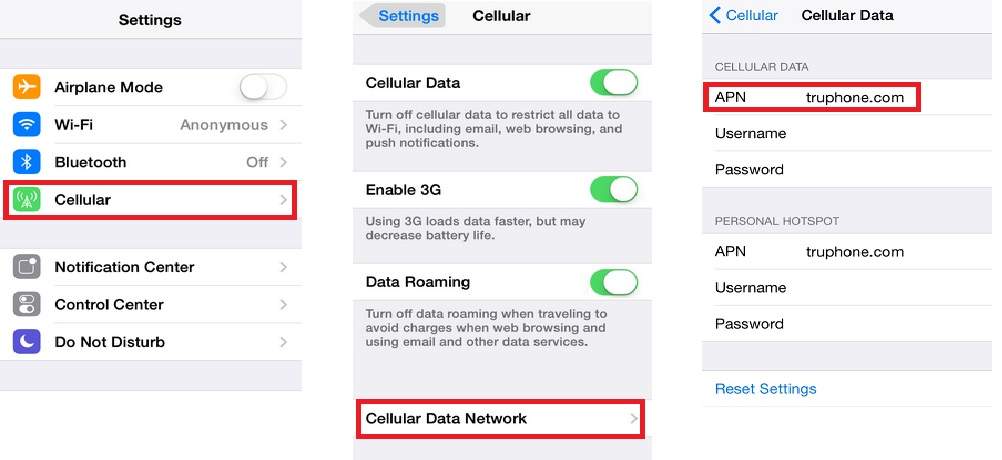 How to Change BSNL APN Settings for iPhone?
Just like the Android Phones Same settings are used for iPhones too. Make sure you take a backup before doing any changes if in case these settings won't work you can reset your settings.
Follow the steps given below and change BSNL APN Settings for iPhone:
First go to iPhone Settings >> Cellular >> Cellular Data Network
Then You will see Cellular Data Settings with APN Username and Password.
Change the APN to bsnlnet and keep the Username and Password as it is.
Click Save settings and Restart your iPhone.
Then Connect your Phone to the Internet and check your Internet Speed.
BSNL APN Settings Not Working RESET it:
If in case you created any wrong APN settings for your BSNL 3G/4G Network and the Internet is not working now, don't worry.
To Reset BSNL APN Settings on Android/iPhone do this:
GO to the Access Point Network Settings on your Phone
There you will see 3 dots or More Option-click on it.
Now you will see the RESET option click on it to Reset your APN Settings to Default.
This process will bring back your Default BSNL APN Settings and your Internet will work normally.