Find BSNL employee pay details and income tax info in salary slip available to download in online at SAP ERP ESS portal login, also check the incomes, deductions of salary carefully in each ERP payslip ready to display in SAP NetWeaver portal login to avoid mistakes, even if you don't want to take a print. Just have a look about to download BSNL Salary slip at SAP ESS eportal
Salary Slip is the top priority documentary proof for a BSNL employee in the organization, showing the incomes (Basic Pay, IDA etc..), deductions towards loans, EPF/GPF and any other subscriptions, Gross pay and Net pay of the worker for the current month, Let's check
BSNL Salary Slip
Print or Download BSNL Payslip in 1 minute.
Just download or print the required BSNL Salary Slip online and check the pay/income tax details of the working employee for old or current monthly income and deductions
Open Google Chrome / IE browser and login to BSNL SAP ESS portal for BSNL employee HRMS login

Enter the website url http://eportal.erp.bsnl.co.in/irj/portal and hit enter

Submit BSNL HRMS number by ignoring 1st digit

Enter 8 digit HR number instead of 9 digit

Enter login password and hit submit

Submit your generated password to log in to the BSNL ERP SAP network portal.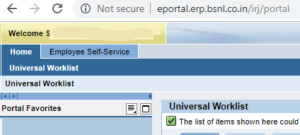 Click on Employee Self Service

Get all the options to do the self care activities of BSNL employee in HRMS portal.

Click Pay Information

Available in Overview of Employee Self Service or in Pay Information

Hit Salary Statement

A new popup will display with a name Paycheck Inquiry Service is displayed with current month payslip.

Download or Print the BSNL payslip

Select your required option to get your BSNL salary statement.

Click Previous Salary Statement

Go to this if required old month payslips
Frequently Asked Questions
How many times can i download my payslip from BSNL ERP portal

There is no limit for downloading or to print the salary slip of employee on login to BSNL eportal.erp.bsnl.co.in.

Is there any alternate channel to download the BSNL salary slip?

If you submitted your email address in your BSNL ESS portal login account, then you will get the salary slip every month as PDF document to the registered eMail address.

Any password required to open BSNL payslip available in email?

No, password is not required to open the PDF document (BSNL pay slip), just open your respective email and take a print.

Can I access BSNL ERP portal from anywhere to see/get the salary details?

Yes, every employee of BSNL can access their ERP ESS Account (HRMS login) through internet and intranet (only in organization premises) available.