Buy Airtel DTH New Connection Online
With 16M subscribers, Airtel Digital TV is one of the most popular DTH service providers in India. Customers can easily buy a plethora of single and channel packages from the website or using Airtel App or through vendors. No matter where you are, you can easily book a new Airtel DTH connection in just a few clicks.
---
How to buy a new Airtel DTH connection?
The Airtel DTH gives different types of broadcasts. Mainly it can be distinguished between: one is standard definition and another high definition. Choose the perfect pick if you prefer high-quality pictures at an affordable cost.
Get a new Airtel DTH connection Via Airtel Website
Go to the Airtel website and click on DTH
Select 'Buy new DTH connection'
Select your city and the set-top box that you wish to purchase
Enter your mobile number
Select the channels and packs that you wish to subscribe to
Choose your mode of payment: Debit Card/Credit Card/Net banking or Cash on Delivery.
Complete the payment process
An Airtel representative will contact you shortly to arrange the installation of your DTH connection.
And this would be completed within a couple of hours.
Use Airtel Thanks for new DTH connection
Open your Airtel Thanks app
Click on DTH
Enter your mobile number to get a call from the Airtel customer care or
Select your location (Delhi, Gurgaon, Noida, Faridabad, Ghaziabad, Bangalore, Chennai, Hyderabad, Mumbai, Pune)
Select your DTH plan
You can select pay online (Debit Card/Credit Card/Net banking) or COD.
Complete the payment process.
Buy Airtel DTH new connection through Marketplaces
You can also buy DTH connections on various marketplaces like Flipkart, Amazon.
On Amazon: Check the Airtel Store Page
On Flipkart: Visit the DTH section for Airtel Digital TV DTH
Airtel DTH New Connection Price for HD (High Definition) Save – 16% on Pack and pay just ₹ 1,650
Choose any pack to subscribe and get 200+ complimentary channels
Include set-top box, dish and remote
Inclusive of delivery and installation
Cash on Delivery available
Types of Airtel Set-top Box
Airtel offers 2 types of with additional features like Xstream app premium, Amazon Prime Membership, etc.
Airtel Xstream Box
It is a 4K Android box.The Xstream DTH TV Box is an affordable alternative to Smart TVs. It enhances any television into a smart TV, enabling users to watch online content via various OTT apps.
Biggest Price Drop Get Xstream Box at ₹1,500 ₹2,650
Access 5000+ Apps. Safe Installation. Free Home Delivery. COD Available.
The Xstream Box runs on Android 9.0 Pie-based Android TV OS, and it comes with preloaded Google Play as well as Chromecast support for streaming content from your smartphone. Alongside offering OTT support, Airtel's Xstream Box works with usual DTH services, which require a monthly minimum amount of Rs. 153 to be maintained in order to access both OTT content and DTH services.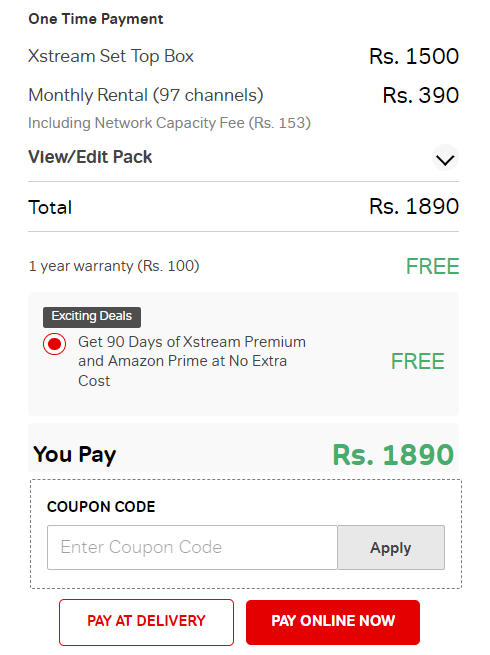 Airtel HD Box
Grab Before It's Over DTH HD Box at ₹1,000 ₹2,000
Flat ₹500 off if you already have any dish antenna. Add a 2nd DTH connection at a special price of ₹750
Features of HD Set-top Box
HD video clarity & Dolby surround sound.
Record, play & pause live TV
Choose from 550+ TV channels
Plug in your pen drive & play
1-year box warranty
Comes with media player and single remote for TV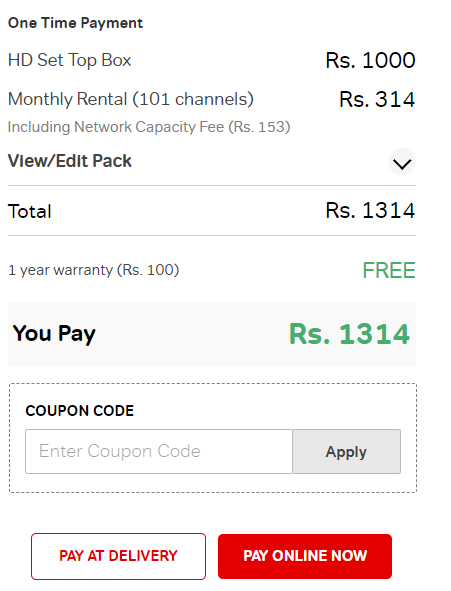 Upgrade Airtel set-top boxes
With a plethora of plans that Airtel offers. Compare DTH providers with each other also.
Airtel Set-Top Box Upgrade Plans

| Upgrade your Set-Top Box to Xstream box | Upgrade your SD Set-Top Box to HD box |
| --- | --- |
| ₹1999 (Box Price) + (12M Hot star worth ₹899 at no additional cost) + Rs.0 (Installation Charges) | Must pay ₹.699 to upgrade from SD to HD + ₹ 150 Engineer visit charges |
3 Tips Before you buy Airtel DTH connection Online
Before you make a purchase, keep below-mentioned 3 things in mind:
1. Airtel Channel List:
When you are purchasing a DTH new connection, one of the most important factors is to understand the channels you will be watching. It is also helpful to know what your family members or loved ones want from their DTH service. Economically, it is better to purchase only those channels you will be watching.
2. Airtel Channel Packages or 'à la carte':
Once you have obtained a complete understanding of the channels offered by your DTH provider, go through the list of channels that will be added to your plan as part of its basic package. In case you feel that some channels would have been better, you can select them via the 'a la carte' model. Regardless of this flexibility of choice, channel packages are a better deal and help you save more even though you are getting a wider variety of channels from your DTH connection.
3. Xstream box or HD box:
Both HD and Xstream TV boxes have their individual advantages. When choosing the one that is best for you, it all rests on what you expect to get from your DTH connection. Only buy DTH connections which fulfill your needs.
Airtel DTH new connection customer care: Contact Details
If you are facing any issues while buying the Airtel new DTH connection, you can use the following information to connect with Airtel DTH customer care support.
Email ID: You can email your queries, or suggestions to Airtel at [email protected]
Phone Number:You can also talk to a customer representative at 1800-103-6065
Airtel DTH new connection: Frequently Asked Questions
Frequently Asked Questions
How to get a new Airtel DTH connection?
To get a new connection online, simply select Airtel best dth plans and choose the option of payment through Debit Card/Credit Card/Net banking or Cash on Delivery.
What is Network Capacity Fee (NCF)?
Airtel charges an NCF of ₹130 (excluding taxes) for subscribers of up to 200 SD channels. This amount rises to ₹160 (excluding taxes) for the channel count over and above the initial 200 SD channels.
How much is Airtel DTH new connection with 6 months plan?
Airtel Digital TV Hindi Value Sports Lite HD Pack New at ₹2450 for 6 months offers a total of 125 channels out of which 21 are popular.It includes the Set-top box, antenna, remote and installation.
Is the Airtel DTH box free?
No, it comes at a price of ₹1500 for a Xstream set-top box and a remote along with a few free OTT subscriptions. Note: Airtel DTH recharge and OTT subscription charges are not included in the price.
Is Airtel DTH wireless?
Customers will need to connect their existing Internet connection (Wi-Fi or wired) in order to use data-enabled services that are preloaded on the Set-top Box.