After BSNL prepaid SIM card number selection and activation, If you're having trouble staying connecting issue to the BSNL mobile data network, here we present what to do to overcome the issue and to communicate at high-speed internet 3G in your area?
BSNL Mobile Internet Not Working
Any customer can resolve BSNL net problem instantly from their own hands by following the simple guide on simple audit, lets check and resolve.
There are two kinds of problems in BSNL data connecting issue for the mobile network, which a user is facing today for not connecting their data plans which allow high speed internet, they are
Mobile Data Activation on new or old SIM card
Active BSNL APN Settings for Mobile
Upon perfect setting of these above two, you can use your limited BSNL data plans subscription or 3G or 4G unlimited data plans from anywhere at high speed.
Whether our old 2G SIM can access the high-speed 3G Internet
All the old BSNL 2G SIM cards are accessible for high-speed BSNL data plans due to the conversion of default profile to 3G in HLR(Human Location Register) services.
How to activate BSNL 4G data?
Existing 2G/3G SIM card users are not allowed to activate 4G, you have to replace with latest 4G BSNL SIM card available at Customer Service Center or with Franchisee named as USIM's at Rs 100, wherein USIM only, the 4G data will activate and allows the customer to get 4G speed.
What to do if having a BSNL data facility with correct APN's, but not connecting to mobile internet?
Check your BSNL data plan carefully, because if a customer recharge with Plan 429, he/she will get the data facility up to 81 days only as per the tariff, but having plan validity of 180 days, In that case, it is restored only after successful recharge with any plan/STV.
My BSNL mobile always connecting with the 'E' signal even having a 3G tower in our area, what to do?
Data signal E denotes EDGE, and if a customer selects Auto mode in mobile data network settings, then the network connects to the signal E or H as per the availability of data traffic at that time
The solution is, try to avoid Auto Mode and connect with Only 3G or Only WCDMA or Only LTE (if 4G network available) mode.
For iOS devices: Settings > Mobile Data > Mobile Data Options > Enable 4G > Turn on Voice & Data
For Android handsets: Settings > Settings > Mobile Network > Network mode or Preferred network type LTE/WCDMA/GSM (AUTO)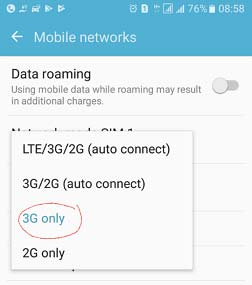 What to do if not getting data facility, even having data facility, APN's, and selected only 3G mode?
Just select BSNL SIM to provide mobile data in your handset
Open Mobile settings > SIM Card Manager > Mobile data (Select BSNL SIM).
Some of the customers were selected another SIM (other than BSNL data SIM) for the provision of data, so the mobile handset is not allowed the 3G/4G internet and generates the data connecting issue.