Get a new recruitment notification for BSNL JTO Telecom recruitment. Check the eligibility conditions for the test by providing an online mock test to check eligibility, 50% quota with new vacancies available in each circle with the revised syllabus for JTO exam.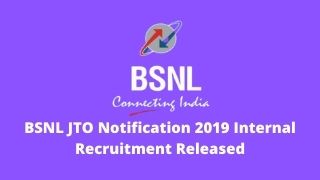 Exciting news for aspiring BSNL aspirants who are seeking to promote JTO Telecom, however, BSNL JTO notification issued BSNL Corporate Notification Order 12-4 / 2018-Rectt. Conducted a Limited Internal Competitive Examination (LICE) for the internal candidates to fill the vacant posts of Junior Telecom Officer (Telecom) in all 26 BSNL Territorial Telecom circles under the 50% quota for the vacancy year 2017 and 2018 on 26.02.2019 to do. Vacancies from eligible candidates in the light of Recruitment Rules JTO (T) 2014.
Actually, 50% of direct recruitment and 50% of BSNL JTO recruitment posts have been filled through promotion through Limited Internal Competitive Examination and this is the best chance for BSNL Internal Assistant to be recruited in Executive Cadre, so get full information online. Notification, application and closing date regarding vacancies, eligible conditions and online exam date.
Eligibility for BSNL JTO Recruitment 2019 Internal
The following are the qualifications to be absorbed for all recruitment years.
Candidates should have a service and residency period of 5 years in the pay scale of 13600 – 25420 or above.
Must be below 55 years of age on 1 July of the vacancy year.
Must have the following educational qualifications
B.Sc (Electronics) / B.Sc (Computer Science)
B.Sc with Physics and Mathematics.
Qualifying marks
The minimum qualifying marks in the examination will be 30% in each part and 37% for the candidates of OC category and 23% in each part and 30% in total for SC / ST category candidates. There will be negative marking and 25% of the marks of that question will be deducted for each wrong answer.
Candidates possessing higher qualification in the prescribed subjects have B.Tech, M.T. Techs will also be eligible to appear in the Direct Recruitment (DR) exam.
All the Internal employees of BSNL firm who are in Group C division cadre and the pay scale is of 13600 – 25420 are eligible to register for this new BSNL JTO opening.
Important dates for BSNL JTO recruitment online
| Particulars | Proposed Date |
| --- | --- |
| Starting of online registration for BSNL JTO recruitment | 01.03.2019 |
| Last date of online registration | 25.03.2019 |
| Online editing of application | 26.03.2019 to 01.04.2019 |
| Downloading of Admit Card | from 12.04.2019 |
| Proposed date of BSNL JTO internal exam online | 28.04.2019 |
Exam syllabus for BSNL JTO
Here, you can check out all the detailed subject according to the syllabus for the said exam
Revised BSNL JTO Exam Syllabus for 2019 JTO Recruitment and Online Mock Test
BSNL JTO Circle Wise Vacancy List
In this new notification, there are a large number of vacancies in each circle, each BSNL will update the current vacancy position in the regional circle as soon as possible.
This internal exam will be conducted completely online, but the only amendment to this internal recruitment is "BSNL JTO without GATE scoring".
Fees for BSNL JTO Examination
The given examination fees are of Rs 1000 (one thousand rupees only) for OC / OBC category candidates and 500 (five hundred only) for SC / ST category candidates which are paid through online mode using internet banking, debit card or credit card JTO recruitment online application will be done, and no other mode of payment will be accepted by BSNL.
Eligible employees who are required to submit the online application through https://bsnlvy2017-18.onlineregistrationform.org/BSNLLICE/ from 01.03.2019 and close the application module 25.03 as per the eligibility conditions mentioned as per BSNL JTO Recruitment Rules Will go. 2019
For any technical complaint on this BSNL recruitment website to submit the application, please send an email to [email protected] or call the BSNL Corporate Helpline number on 022 6250 7723 (Monday to Saturday from 10:00 am Till 05:00 pm).