BSNL introduced the best broadband plans. In the association with Bharat Fiber with Copper Cable (DSL). Network for village and ward secretaries of public relation (PR)and Rural Development (RD) of the government of Andhra Pradesh in AP Telecom Circle. The plan is available at a low cost.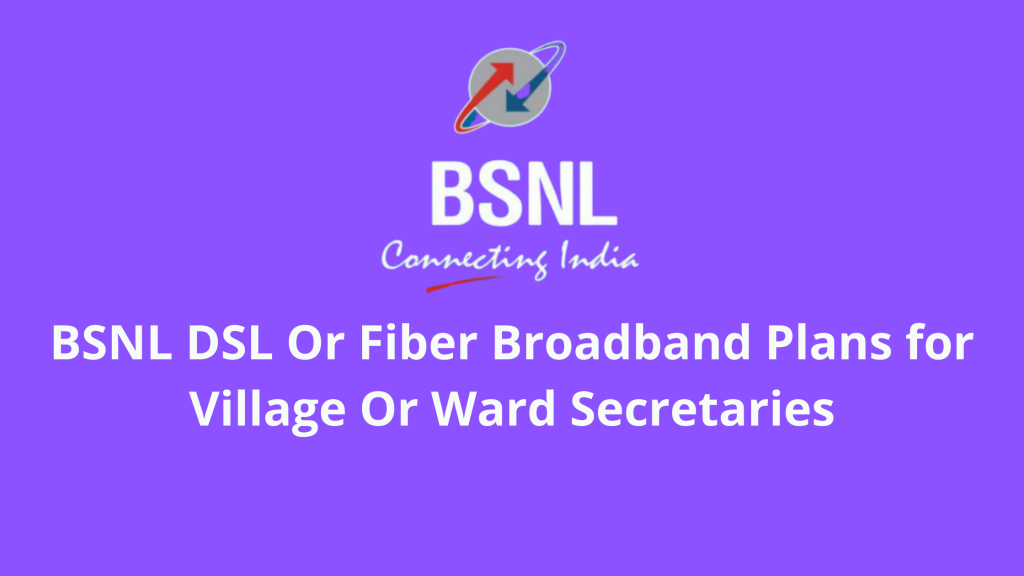 Particulars
Tariff and Speed
100GB CS354 – Fiber at Rs.430)
Up to 10 Mbps till 100 GB, thereafter 4 Mbps
100GB CS355 – Fiber at Rs. 491
Upto 10 Mbps till 100 GB, beyond 4 Mbps
100GB CS356 – Copper at Rs.520
Upto 10 Mbps till 100 GB, thereafter 4 Mbps
100GB CS357 – Copper at Rs.581
Up to 10 Mbps till 100 GB, then 4 Mbps
Applicability
Village/Ward Rural Secretaries under PR & RD, Department, Government of Andhra Pradesh in AP Telecom Circle.
100GB Fibre – 664
(Ward Secretaries of Greater Visakhapatnam Municipal Corporation, AP Telecom circle)
Upto 100Mbps upto 100GB, then 2Mbps
Annual Payment Option (Rs.)
Advance Rental Discount applicable on Yearly / Two Year or 3 Year Subscriptions
Limit per month
Unlimited Internet Downloads and Uploads
Additional Usage Charges/ MB beyond free download / upload limit (Rs.)
Not Applicable
Free E-mail IDs/ Space (Per E-mail ID)
1/1 GB
Static IP Address (On Request)
NA
Security Deposit (in Rs.)
Waived Off
Minimum Hire Period
One Month
Telephone fixed monthly charges in Rs.
NIL
Free Calls and Additional facility
Voice Facility is Not Available, No Telephone instrument is to be provided. There are no charges towards Landline Registration/Landline installation/Landline Security Deposit.
ONT Rental Charges (in Rs.) for Fiber Network
90/-
Installation Charges for Copper & FTTH
Waived Off
Unlimited plans at just Rs 430 and Rs 491 monthly rental charges. DSL tariff at Rs 520 and Rs 581. No need to pay any security deposit. latest broadband plans of BSNL with detailed tariffs.
The government of Andhra Pradesh made available this tariff with the effect of 15th January 2020. BSNL broadband plan for village/ ward secretaries.