Airtel SIM Cards – Activate, Deactivate, Costs & Latest updates in 2022

Bharti Airtel, is currently India's second-largest mobile phone carrier. With worldwide 491 million customers in 2022, 360.33 million subscribers are from India and with 36 million solely from state of Bihar. Airtel holds approximately 30% of the telecom market in India.
---
Airtel Sim Card: Types and Size
The Airtel SIM card powers your mobile phone and connects you to the internet. Without the SIM card, it would be impossible to make phone calls or connect to the internet.Below listed are the types of Airtel SIM cards available:
| Name | Length | Width | Generation |
| --- | --- | --- | --- |
| Full-size SIM | 85 mm | 53 mm | First (Traditional) |
| Mini-SIM | 25 mm | 15 mm | Second |
| Micro-SIM | 15 mm | 1 mm | Third |
| Nano-SIM | 12.3 mm | 8.8 mm | Fourth |
Airtel (India) uses 2 GSM bands (900 and/or 1800 MHz frequencies), 2 UMTS bands (900 and 2100 MHz frequencies), and 1 LTE band(4G/LTE services).
If you haven't used your Airtel phone for 30 days without logging in, your number may be deactivated. Check your bank account balance by dialing *121*12#.
How To Activate Airtel 4G SIM Card?
Follow the below steps to activate your new 4G SIM:
SMS SIM [ 20-digit SIM card number of your new SIM ] to 121
You will receive a confirmation SMS in your inbox. Reply with 1
Listen to the confirmation call you receive immediately and give your consent by replying with 1
How To Activate Airtel 5G Sim Card?
Before you move on to 5G network, check if the services are available in your area.
Activate Airtel 5G Sim Card on Android Phone
Follow the steps below for an android phone: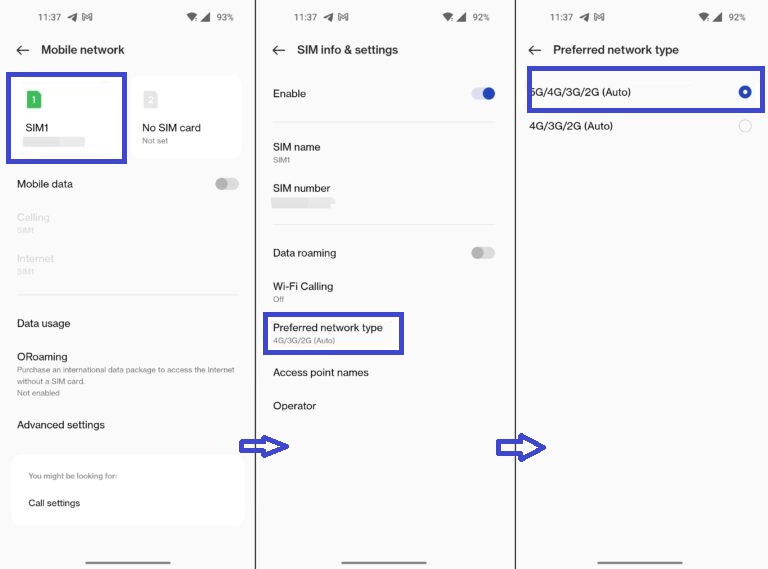 Open the Settings of your Mobile Phone and move to "Wi-Fi and Network
Now move to "SIM and Network" settings
Select the SIM you want to enable 5G on
Select the 'Preferred network type' option. Open it and choose "5G/4G/3G/2G" or you can simply choose "5G".
Wait for a few minutes to see a 5G symbol on the status bar.(turn off Wi-Fi and enable mobile data for the 5G symbol to show up. If it still does not come up, restart your phone)
Activate Airtel 5G Sim Card on iPhone
Follow the easy steps below if you are using an iPhone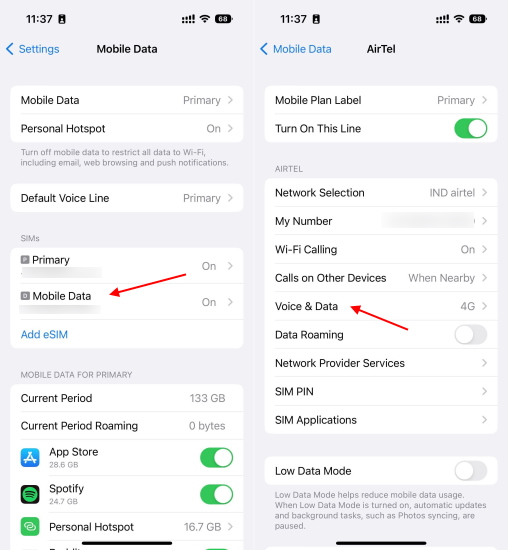 Go to the 'Settings' app on your iPhone
Move on to the 'Cellular' settings menu
Select 'Cellular Data Options'
Under 'Voice & Data' settings, either select '5G Auto' or '5G On' option
Once this takes effect, within a few minutes, you should see a 5G symbol on the status bar.
How To Activate An Airtel Prepaid SIM Card?
To activate your Airtel prepaid SIM card, just follow any of the two ways listed below.
Activate Airtel Prepaid SIM Card Through SMS
Insert the SIM card into your phone.
Head over to the messaging app on your mobile phone.
Type SIM then give a blank space and type the 20-digit SIM card, which you can find on your SIM card package.
Once done, send the message to 121.
A confirmation SMS or a call will be received by you on your mobile phone.
After you've provided the confirmation, Airtel prepaid SIM will be activated within the next few hours.
Activate Airtel Prepaid SIM Card Through Call
Before getting started with the process, make sure that you have completed your KYC process. If it is completed, then follow the steps below:
Insert the SIM card into your mobile phone. Turn on the phone and let the phone stay on standby for some time.
You'll receive a signal on your phone from one of the nearby Airtel cellular towers, which will allow you to complete your tele-verification process.
Open the caller app on your mobile phone and dial 59059. Your call will be redirected towards an IVR (Interactive Voice Response) system.
Follow the instructions to complete your tele verification.
After successful tele verification, the activation process is accomplished and your Airtel prepaid SIM is ready to use.
How To Activate An Airtel Postpaid SIM Card?
Activation of Airtel Postpaid SIM card is a bit different from the prepaid one.
Users are required to follow a two-step verification process.
For verification, just dial '59059' to get a signal on your new SIM card.
A representative from Airtel will visit your address to verify the location you've provided in your papers as evidence, and you'll also be required to complete Address Verification.
Enjoy Free Sim Delivery in 3 Simple Steps:
Select the plan
Airtel executive will visit you, take your details and deliver your SIM
Insert the activated SIM to enjoy Airtel 4G
How To Activate An Airtel SIM Card After Porting?
If you are porting your number from Airtel prepaid to postpaid or Airtel postpaid to prepaid, you may need to activate your Airtel SIM. If so, follow the procedures below.
Turn your phone on and put your new SIM card in it.
After that, you'll be prompted to enter a PIN number. By default, the PIN number is 1234.
Press OK once you've entered the three digits.
Now activate your SIM card by dialing *123#.
Once you've completed these steps, your phone will display 'Airtel' as your network provider.
Discover All About BSNL SIM cards
Airtel SIM Card International Roaming Activation
Domestic roaming must be enabled to access the internet when traveling outside of the state where you bought the SIM card. Data roaming inside the country is free, however, roaming and long-distance calls cost extra.
How To Turn On Airtel International Roaming
The first step is to visit the official website of Airtel.
Or you can go to the My Airtel App.
After that, sign up or sign in to the app using your mobile number.
Once you are in the app, browse through the traffic plans of the country that you want to visit.
And then, choose any preferred plan and recharge with that.
How To Block An Airtel SIM Card?
It's possible to block a SIM that's been lost or stolen by calling the customer service hotline. To make things even easier, customers may stop by an Airtel customer service facility to have their old SIM disabled while also picking up a new one. Here are the procedures you need to do to deactivate your Airtel prepaid or postpaid SIM card and obtain a new one.
How To Block An Airtel SIM by calling from an Airtel number?
Customers may dial a specific number to have their Airtel SIM disabled, according to the company's official website. To prevent unauthorized use of your lost or stolen Airtel SIM card, follow these simple steps.
Save your recently called numbers, the amount of money you spent on the previous recharge, and a copy of your ID in case your SIM card is lost or stolen.
Press call on 121 or 9849098490, whichever is convenient.
You'll be required to confirm the previously given information.
Your Airtel SIM card will be banned after the verification process is complete.
How to block Airtel SIM by calling from a non-Airtel number?
If you're wondering how to deactivate your Airtel SIM card with an Airtel connection, follow the steps listed below:
Open the phone's dialer app.
Call the toll-free number at 1800-103-4444 and then press call
Verify recently called numbers, the latest recharge amount and proof of address or identification will be requested from you.
Call to double-check the aforementioned information.
Your misplaced Airtel SIM card has been disabled and is no longer usable.
Keep in mind that you may use these strategies with both prepaid and postpaid Airtel phone lines. You may choose to unlock or unblock the SIM cardif it is discovered after you have banned the number.
How To Get A New Airtel SIM With The Same Number After Blocking?
Once you've blocked the lost SIM, obtaining a new SIM with the same number is simple. So here's how it's done:
Visit the Airtel Store Finder on the official website to find one near you!
Find an Airtel Store near you by entering your postal code or city name.
Bring two passport-sized photographs and your ID to an Airtel shop near you.
Verify your ID and pay the

Airtel sim card price

of Rs 25 to Rs 100 by filling out the necessary form.
To activate your SIM card, put the SIM card in your phone and call 59059.
Verify personal information such as your address and birth date.
Check Out Airtel Reviews
How To Reactivate A Blocked Airtel SIM Card?
If your Airtel SIM is blocked or has expired, you have 15 days to revive it by following the procedures listed below.
You may ask for reactivation by sending an email to [email protected], which goes to airtel customer service. It's simple to activate an Airtel sim card online.
You may also lodge a reactivation request in person at an Airtel shop near you.
You'll have to provide evidence of residence and photo identification.
Your phone number will be reactivated once you get a confirmation call.
How To Activate A New Airtel SIM Card?
According to a recent announcement by Airtel, you can now get a new Airtel Prepaid 4G SIM card online and have it delivered directly to your door. To buy a new prepaid Airtel SIM card or buy esim from Airtel, you no longer have to visit an Airtel shop.
If you currently have a mobile number with Reliance Jio, Vodafone-Idea, BSNL, and want to transfer it to your new Airtel SIM, this will be a convenient option for you. Moreover, there is also a same-day sim delivery and fast activation option with Airtel 4G Sim home delivery service.
How To Buy A New Airtel Prepaid & Postpaid Sim Card Online?
If you're planning to buy a new Airtel prepaid or postpaid SIM card online, follow the steps:
Go to www.airtel.in/prepaid-4g-sim on the company's official site first.
From the list of possible plans, choose one. There were two plans, Rs 248 and Rs 495, and a new Airtel SIM available at the time of writing this post.
Schedule the door-to-door KYC now. To begin, you must provide a few basic information into the web form, which is detailed below.

Name
Mobile Number
New connection or Mobile Number Portability
Location
House or Flat No

Click submit after you've finished filling out the form.

That's all there is to it. You're ready to go. You will now be notified by SMS at the phone number you provided in the message below. Your Airtel SIM will be sent by EXE NAME (XXXXXXX92) after your order has been made.
A sales representative will get in touch with you to arrange a time for the visit to finish the KYC procedure that is most convenient for you. Original papers such as an Aadhar card, a voter card, a passport, and a driver's license must be kept on hand at all times.
The executive will use his mobile phone to take a picture of the document and your portrait as part of KYC. There's no need to hand up any hard copies of anything. However, the doorstep delivery service comes at a cost of Rs 99 as a service fee.
Find More About Jio SIM Cards
Airtel SIM Customer Care
If you're facing any challenges, consider using the following Airtel SIM customer care number:
121 ( Broadband, Prepaid & Postpaid, – Query/Request Helpline No.)
198 (Postpaid & Prepaid – Complaint Helpline No.)
1800 103 1111 (Mobile Number Portability)
12150 (DTH -From Registered Mobile Number)
Now that you know how and where to buy the popular Airtel SIM card, get your connection with one India's largest politicians today! For more updates about Airtel and other network providers keep reading Selectra.
Frequently Asked Questions
What is the activation number for the Airtel system?
Dial 59059 to activate your Airtel SIM card.
How long does it take to activate a 4G SIM?
Most people can activate a 4G SIM within two hours or less using an MNP, although this may take up to eight days.
How to check the activation status of the Airtel SIM Card?
You may check the status of your Airtel SIM card by calling the Airtel customer service number 121 or having a friend use their Airtel cellphone to make the call. Whether your new Airtel SIM card is inactive, you may use this method to see if it works.
How to activate the new Airtel SIM after dialling 59059?
You have to follow the below steps:
For activation, insert the existing SIM card by phone
Then dial the SIM activation number for India – 59059.
After that, provide your identification details.
Then, wait for 24 hours to activate the SIM card.
How can I activate the Airtel sim which is deactivated?
You can follow the below steps to re-activate your Airtel Sim:
Firstly, request re-activation through email to [email protected]
Or you can go through customer care.
Visit the closest airtel store and present a reactivation request to them.
Submit your Address and Photo Id proofs for verification.
After that, you will receive a verification call.
And once it is done, your number will be re-activated.